By Michelle M. Sharp, Founder and Content Creator of Meet the Minnesota Makers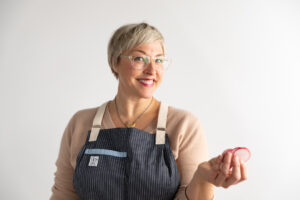 Anna Klimmek is the founder of Happy Food MN.
What is Happy Food MN?
Happy Food bridges the gap between simply eating and eating simply to fully nourish you. 
Anna's goal? 
"I want to empower people. I want to help them find the magic that's within," explained Anna. "I try to trick you into going deep with me by bribing you with food." 
Happy Food MN and Anna's new venture of Breakthrough Adventures teach you to eat well with the confidence to cook at home with what you find locally. Anna's courses contain recipes easily sourced from your neighborhood grocery store. Anna wants you to feel at home in your own kitchen. This makes Chef and Coach Anna Klimmek a tremendous community resource to share in the MTMM local food series. 
Anna is a Le Cordon Bleu trained chef with over 20 years of experience working as a concierge, personal chef, caterer, and in grocery store management.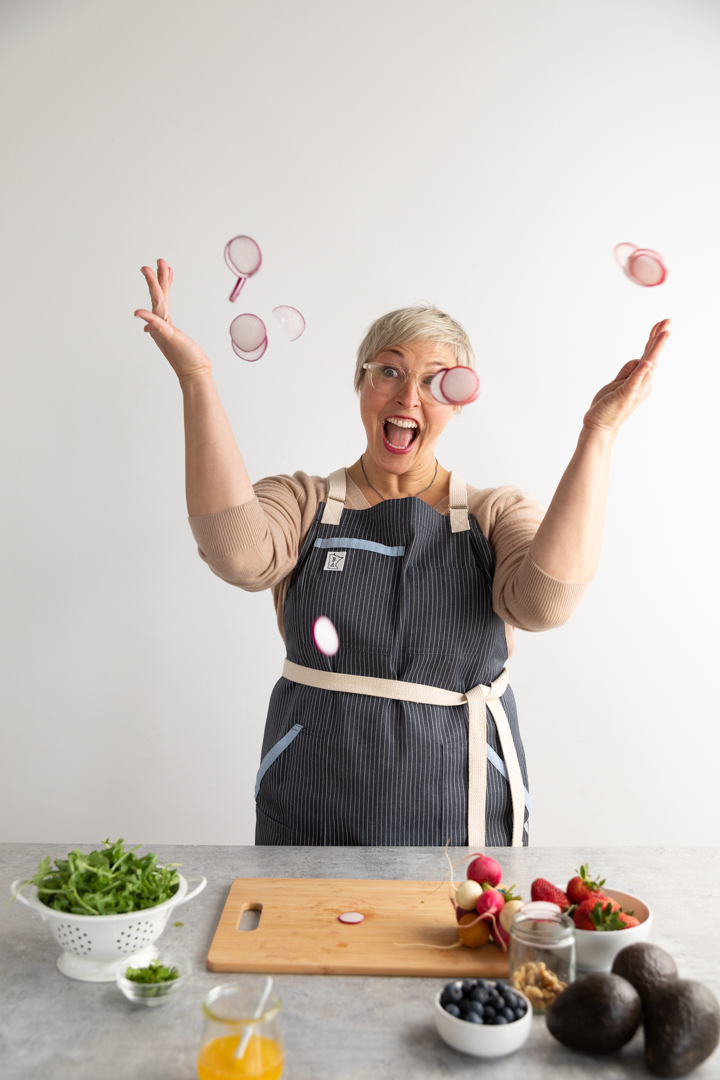 Anna is a certified Health Coach from the Institute of Integrative Nutrition. She learned over one hundred dietary theories along with practical coaching practices through this training. 
Anna affirms that happy food is a product that has been raised responsibly that nourishes you. 
Anna doesn't do lack. Learning how to negotiate her own intolerance to gluten and dairy motivated her to inspire others to find a way around perceived dietary limitations. 
Happy Food MN specializes in corporate workshops that increase employees' health and provide space to build trust and communication. 
Through Happy Food's online school, Anna offers individuals cook-along courses with international flair. She has created an individual version of Food for Focus—one of her most popular corporate workshops. Use code MTMM10 for 10% your course registration. 
Anna's classes and workshops all feed into her mission of "empowering people in the place they are right now to live their happiest and healthiest lives." 
Anna's newest venture is Breakthrough Adventures. "Breakthrough Adventures uses the outdoors to help draw out that connection between mind, body and spirit through coaching and retreat experiences," explained Anna. "It is all about guiding people into their highest purpose and reminding them that they are 'worthy of their dreams.'" These retreats will usually have a culinary aspect. The group will cook outside whenpossible. For cabin retreats either Anna or a sous chef will prepare her recipes.
Through her early culinary internships Anna recognized that she was a planner rather than a restaurant chef rapid responder. "I belong out
front. I like to be with people. I'm good at teaching," said Anna. "Earning my health coaching certification really helped inform the kind of food that I teach and the language I use to talk about individual body health."
Anna's body empowerment encourages people to think about food as only one piece of the puzzle. "As a health coach, it's not just the food that you take in that nourishes you—it's also social media, movement, breath, and knowing that what you want matters," shared Anna. "When you start a conversation letting people know that what they want matters, it leaves so much more possibility for opening up, for listening."  
When asked what drew her to food in the first place Anna responded, "I was born that way." Surrounded by relatives who enjoyed cooking and the process of dining, Anna learned food as an experience. "My stepdad did business in Italy. We would have eight course Italian meals. I learned how to luxuriate and dine as an activity. It's not just the practice of getting the meal on the table so that we can go and do other stuff." 
Anna learned to cook so that she could prepare food the way that she wanted to enjoy it. "I really care where the ingredients come from. I care about the preparation. When I cook for people I put a lot of time and care into it," shared Anna. "For me cooking is so much more than feeding, it's an expression of love.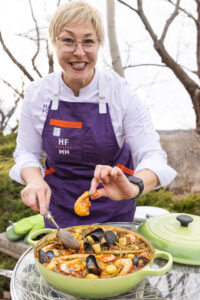 When faced with her own dietary limitations, she knew there was a way to maintain the joy of dining while making the choices that were healthiest for her. "I can teach you how to make those foods that feel like a loss into the experience you still want," said Anna. "I focus on happy eating. I want to help people learn the best ingredients and techniques so that they can expand their dietary world instead of contracting it. I want to help them eat real food." 
Anna's teaching style is candid. When her equipment fails or an ingredient runs short in a live demo, she shows her students how to adapt. "When my stuff doesn't work, we do it with grace and screw up and still have a good time," explained Anna. "Watch me mess up as a 20 year trained chef in front of you. Don't be afraid to mess up in the kitchen. Or in life." 
Food is the metaphor. It provides space for the bigger talk. Anna creates the space for those talks by literally setting the stage with her cooking.
Visit https://happyfoodmn.com/ to learn about Happy Food MN corporate workshops or sign up for an individual course. Use code MTMM10 for 10% off your course registration. 
Follow @happyfoodmn on Facebook and Instagram for announcements about Breakthrough Adventures—Anna's newest journey into happy, healthy bodies. 
Follow @meettheminnesotamakers on Facebook and Instagram to discover more of the people who make Minnesota a tasty place to be!
Photo Credits: Bre McGee of Uncommon Collaborative and Kristen Olsen of Studio Q
Share This Story, Choose Your Platform!