By Michelle M. Sharp, Founder and Content Creator of Meet the Minnesota Makers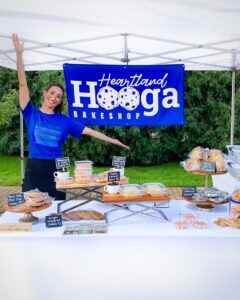 Jessica Babiar, the founder of in-home cottage bakeshop Heartland Hooga, has many core memories centered on food. Her love of baked goods started with holidays featuring handmade treats from her family. This nurtured a love of baked goods and linked them as a love language. "I looked forward to seeing them dolled up uniquely for each season from Christmas to Easter, each dessert tradition holding a special place in my heart -and stomach."
As a kid Jessica always marveled at bakeries' glass cases packed with delights that beckoned to her. There was an amazing array—sprinkle-dipped tea cookies and frosted smiley face cookies to glazed coffee cakes and dense chocolate cake donuts. 
"For my entire life I have wanted to try this business. At some point you realize there's never going to be a perfect time to make your dreams happen so we found a way to make it work," explained Jessica. "Heartland Hooga Bakeshop (HHB) officially debuted at the Chanhassen Farmer's Market in June 2022." In her first year in business she was featured in the Star Tribune as one of the five best things their food critics ate that week for her brown butter butterscotch cookie and delightfully tart lemon bar. "This gives me a big smile every time someone reminds me!"
Raised in the Chicago area, Jessica and her husband moved to Chaska from Colorado during the pandemic. She knew her bakery name had to celebrate her love of the Midwest and its unique baking culture. "'Heartland' represents my Midwest baking style and 'Hooga' is a playful nod to the Danish concept of 'hygge' to represent the cozy, comforting vibes enjoying something sweet always brings."
Jessica's elevation of Midwestern food traditions through her baking made her an ideal feature to kick off the MTMM summer series celebrating local food. Through the end of August, join me to meet local farmers, bakers, chefs, and cookbook authors who know that the secret to eating well is to eat locally. 
Her homey, approachable treats celebrate Midwestern comfort baking at its finest. "Heartland Hooga Bakeshop delivers cozy Midwest treats. Big on flavor—and often size!—with each item specially made with an adult's inner kid in mind."
Jessica finds herself drawn to the why in baking and for entrepreneurship in general. It's her scientific mind finding its happy place in the kitchen. "I find most joy in the learning. And thank goodness because entrepreneurship delivers daily on this!," laughed Jessica. "A few items on an infinite rotation of ongoing lessons: how to elevate efficiencies in the kitchen to meet higher demands, how to deliver more joy to each customer's day, how to develop innovative items while staying within cottage law water activity requirements, how to source more cost-conscious ingredients while still prioritizing flavor, how to better execute at the market, and on and on…"
The flavor profiles of every item on the HHB menu have been tested and retested. Jessica curates her ingredient list with precision to bring out the tastes she seeks. The lime bars that joined the celebrated lemon ones this season went through 16 versions to achieve a refreshingly tart taste with just the right hint of sweetness. "There is an immense amount of thoughtfulness that goes into HHB – from hand making the toffee and caramels that get mixed into my cookies to special ordering specific ingredients that sometimes costs more to ship than the actual item itself because I won't compromise on flavor."
Based on the diverse range of items we had the opportunity to sample, Jessica has succeeded in creating a thoughtful menu with rich flavor profiles. Her Mondo Nutella Hazelnut cookie bursts with whole hazelnuts as the Nutella pockets melt on your tongue. The bittersweet black cocoa cookie is a chocolate lover's dream that focuses on the rich cocoa. Her almond sugar cookie is baked good comfort food at its finest with a delicate whipped frosting that you'd swear is actually whipped cream. (It's not.)
Jessica's long-standing vision of running her own business has been a dream come true this past two years. "The biggest surprise has been the
reception HHB has received in the community," said Jessica. "I continue to be fueled by gratitude for their support and it drives me to bring the best I can to the booth every single week."
Mark your calendar for Saturday, July 22 at the Chanhassen Farmer's Market for HHB's second annual "Christmas in July." Jessica will offer all the festive flavors usually only enjoyed in December—from gingerbread to peppermint! 
Find Jessica exclusively at the Chanhassen Farmer's Market through September. 
Follow @heartlandhooga on Facebook and Instagram or subscribe to her newsletter for updates on fall/winter pop ups and preorder opportunities. To sign up email Jessica at [email protected] or stop by her booth this Saturday.
Follow @meettheminnesotamakers on Facebook and Instagram to discover more of the people who make Minnesota a tasty place to be!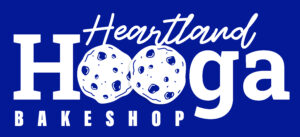 Share This Story, Choose Your Platform!