By Michelle M. Sharp, Founder and Content Creator of Meet the Minnesota Makers
Ziggy's Art Bus offers kids and their families an escape into art.
Traveling throughout the Twin Cities metro since 2019, Ziggy's provides art experiences for children with life-threatening conditions at their own homes and wherever the kids receive medical support. 
Ziggy's Art Bus is a truly unique mobile art experience that is dedicated to its kiddos. Tamara Cairns, Executive Director, said, "We are the only organization in the nation that has created a fully accessible mobile art studio (our Art Bus!) specifically for this community. Our bus has a wheelchair ramp, fully adjustable interior components, and was professionally designed to be a bright, kid-friendly, gathering space!" 
This installment of the Meet the Minnesota Makers Change Makers series recognizes the powerful service that Ziggy's offers the community. As Tamara explained, "The majority of services available to this community are strictly in regards to medical care and physical health; Ziggy's offers a needed, missing, NON-medical service. Ziggy's has a profound impact on this population that is thankfully narrow but in tremendous need."  
Ziggy's art programs include guided art experiences, art kits, and their custom art projects. Ziggy's volunteers meet families at their homes or at Crescent Cove Hospice in Brooklyn Center and the Ronald McDonald House. Ziggy's delivers art kits to families' homes throughout the Twin Cities metro and to Children's hospitals in both Minneapolis and St. Paul.
The creative team at Ziggy's has curated over 50 unique art projects. These kits are designed to celebrate the individual spirits and interests of the kiddos who complete them with their families. "Our art projects are unique, meaningful, and cohesive in that they encourage a sense of peace, positivity, or emotional expression," shared Tamara. "Many of our art projects also have a focus of 'art with heart' by incorporating the child's hand or fingerprint for families to treasure." 
Vicki Johnson Craig, Creative Director, describes working at Ziggy's as her dream job. "A lot of people say—how can you do what you do? I
don't know. I just don't know differently. It's just a part of me why I do what I do and why I love it so much." Vicki was Ziggy's Art Bus's first paid employee. She dreams up kits that celebrate the kiddos's interests ranging from Paw Patrol to the song "The Ants Go Marching." 
For Erica Marsden, a founding board member and volunteer, there's something sacred about the experience of working with the children and their families. "You find a way to bear witness to a time of transition without taking up a lot of space in the room," shared Erica. "In the midst of their medical needs, you contributed a unique experience to their day."
According to Tamara, "The number of children facing severe illness or in hospice remains constant. Approximately 1000 children die from illness in Minnesota each year. These children are vulnerable, immunocompromised and often have limited mobility and limited verbal communication abilities." Ziggy's offers these children and their families a transformative space. The staff and volunteers meet the kids where they are to create a keepsake—both through the object itself and the family's memory of creating it together.
Ziggy's currently has opportunities for new volunteers to participate in site visits or to provide support with family art projects. "Volunteers come in and realize that it's really fun. They feel like they're making a difference," shared Vicki. "Until you actually get in there and do it you cannot realize how special it is to be a part of this child's life for a brief moment. I love it because it makes the kids happy. It makes their parents happy. It makes me happy to do that." 
Being a part of the families' hospice experience is a celebration of the current moment. "As a volunteer, I have become comfortable with life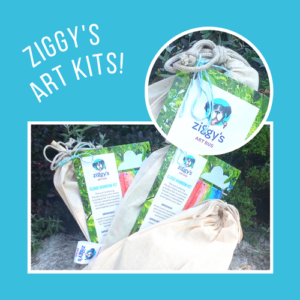 transitions. These encounters place you in the now," said Erica. "It doesn't matter what's going on in the world with current events. You just shut it all out. Being with the child and their family—that's what matters. It's a powerful space of connection." 
Ziggy's is in need of helpful hands who can prepare cotton drawstring bags for packaging art kits. There is also an urgent need for a woodworker in creating some small wooden toys that children could paint. You can also support Ziggy's through their Amazon Wish List or donate directly to fund art supplies and gas for the bus.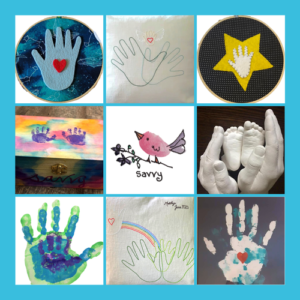 Ziggy's Art Bus is a celebration of the kiddos and their families. It creates a space where they can just be. They make something that will be a keepsake in the midst of all the heaviness that they walk with. Erica explained, "When you can witness a time of suffering without feeling like you need to fix it, you're changing the experience. People who go through really hard things can feel the different ways that people interact with them. It's really important to just be one of those people in the world who can be present and enjoy this moment."
Learn more about the work of Ziggy's Art Bus at https://www.ziggysartbus.org/about-folder
Follow @ziggysartbus on Facebook and Instagram 
Follow @meettheminnesotamakers on Facebook and Instagram for more change makers who make Minnesota an amazing place to be!
Share This Story, Choose Your Platform!