By Michelle M. Sharp, Founder and Content Creator of Meet the Minnesota Makers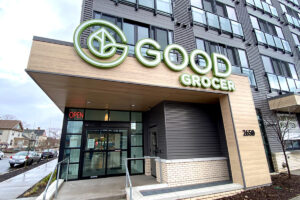 The team at Good Grocer wants to know: Can a grocery store can change the world?
From their corner lot on Nicollet Avenue near Eat Street, this volunteer-powered grocery store is on a mission. Good Grocer is a new cause-driven retailer that empowers its community members to provide affordable food access to many. 
Good Grocer volunteers are involved in every facet of the operation, from stocking shelves and cashiering, to posting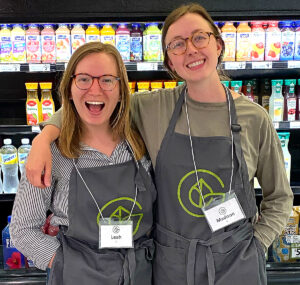 price tags and prepping food in the kitchen. Volunteer support allows the socially-responsible business to reduce operational costs and pass those savings on to not just volunteers, who receive a 20% discount, but all shoppers. This full service grocery store is stocked with premium produce, fresh meat and local favorites including Baba's Hummus, Soul Grain Granola, and Seven Sundays Muesli.
Good Grocer is not a co-op. It's not a food shelf. It's a unique model that builds community and improved food accessibility through individual empowerment thanks to the work of many.
Good Grocer is the next installment of the Meet the Minnesota Makers change maker series for their work in bringing everyone to a bountiful and nutritious table.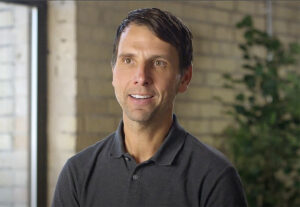 Kurt Vickman, the founder of Good Grocer, shared why he sees providing accessible food as just one driving force behind the store. "Food and the ability to work alongside one another has the ability to bridge divides—economically, socially, and racially. It can help people beyond just feeding them."
Mark Daum, Kurt's junior high hockey coach and current director of marketing, shared, "We consider ourselves your neighborhood grocer. We want to be an essential part of living in this area." 
Housed within Good Grocer is the food outlet. Any purchase made at Good Grocer partially funds the food outlet, which offers fresh groceries at a deep discount. "The food outlet is fundamentally for people struggling with food insecurity, whether it's scarcity of quality or quantity," explained Kurt. "As people shop here they can feel good about it because they're filling the food outlet. This allows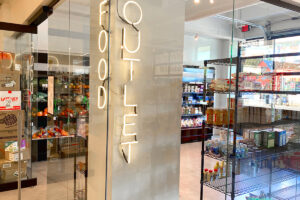 shoppers who face food insecurity to better provide for themselves and their families." 
Kurt developed this model after the experience of running a food shelf through the church where he formerly served as pastor. He felt uneasy about the experience, especially for their clients. "We had this line of people out the door, but I wasn't convinced that we were empowering people," shared Kurt. "I started to ask myself the question–were we really
helping them?" 
Kurt found that many of their clients felt shame about their need and frustration with their disempowerment. "If we harm someone's dignity in the process of trying to help someone, then fundamentally we're not doing the good that we want to do. We had to flip the whole thing," explained Kurt. 
Good Grocer was inspired by the Habitat for Humanity model. Instead of houses, by volunteering at Good Grocer, you reduce the business' overhead, earn your own discount, and make premium groceries more accessible for everyone involved. All are welcome to shop at Good Grocer, whether or not they volunteer. There is no membership requirement. Mark summed up their goal as, "We hope to be a place of inclusiveness, dignity and building community."
This new model means that Good Grocer stocks its shelves with over 7500 products that you would expect to find at any neighborhood grocery store. "When we were a food shelf, we didn't have access to the best food," said Mark. "Our
produce and meat weren't as nice as they could be. Most of what we got was sourced from the secondary market. Now all our food is fresh and delivered daily from the same source that stores like Lunds & Byerlys use."
Kurt and Mark connected when Kurt was diagnosed with dyslexia in junior high. "The school system was a place that eroded my sense of self confidence. The environment that was created in my school was not a space for me to flourish," shared Kurt. "I was on the bubble and Coach picked me. It's the most powerful thing you can do for another person." 
"That's why it's so important for me to empower the underdog. I was someone who was overlooked and disempowered," said Kurt. The volunteers feel a connection to this store; they are invested in it. "If you ask someone why they volunteer, they're not going to say it's because they struggle with food affordability. They're here because they want to help other people. They want to be a part of something good. Their fundamental connection to this place is different; that is important."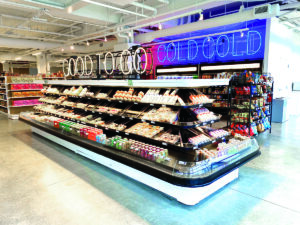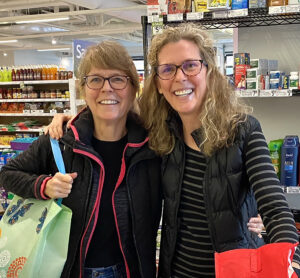 Current volunteers include both neighbors and people who drive in to lend a hand, including Kurt's dad. "We have such a mix of people who volunteer," shared Mark. "Some have retired and now are paying it forward to help in the community. Some want the discount. Some are looking for a place to belong, to contribute." 
After witnessing the impact of hunger locally as well as on international travels in Calcutta and Kenya, Kurt had what a friend described as his "Popeye" moment. He just couldn't stand by and watch anymore. He had to take action. "This place is my mission. I want people to shop here, to get invested, to help us build community. I want to create connections and bring out the good." 
Visit the Good Grocer at 2650 Nicollet Avenue in Minneapolis.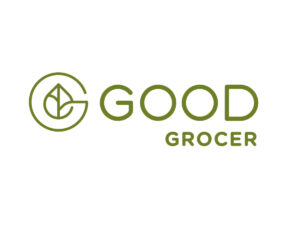 Volunteer to help the community and earn a discount. 
Learn more about Good Grocer's mission at https://www.goodgrocer.org/ 
Follow the Good Grocer on Facebook and Instagram to meet the featured volunteer of the month and learn about current in-store specials. 
Follow @meettheminnesotamakers on Facebook and Instagram for more change makers who make Minnesota an amazing place to be!
Share This Story, Choose Your Platform!