By Michelle M. Sharp, Founder and Content Creator of Meet the Minnesota Makers
What happens to the floral table arrangements at your banquet after everyone leaves the table? 
How can seniors in memory care and hospice be made to feel less alone? 
Marie Schuhwerck hated to see the waste generated by the brief life of beautiful floral arrangements. They had so much beauty still to share; there had to be another option rather than moving them to the trash. In this second installment of MTMM change makers series, discover how Marie brings discarded blooms back to life while providing comfort to those who need it most. 
Marie founded Twofold Blooms in 2021 from the historic farmstead in Farmington where she lives with her husband. The mission of Twofold Blooms is to give fresh flowers from event bouquets and arrangements a second life as single arrangements for seniors in memory care and hospice. 
The inspiration to give these floral arrangement a second purpose came from Marie's own wedding. "My husband and I got married during COVID so we had this brief outdoor wedding with only 26 people. We had this beautiful arch made out of flowers that only was used for about three hours," explained Marie. "With such a small group, no one could take all the flowers home. It made me so sad."
The Gardens of Castle Rock in Northfield, where Marie had her wedding, is now her main supplier of flowers from the events that they host.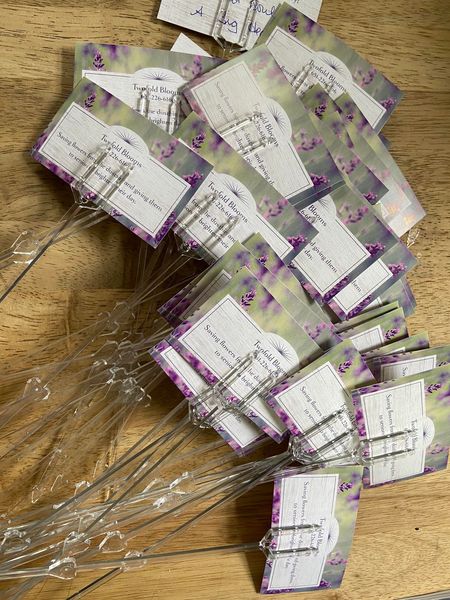 After her wedding, Marie discovered an organization called Petals Please on Facebook and contacted Beth Adams, the founder, to learn more. Beth's work in hospice inspired her to found her non-for-profit in Pennsylvania that repurposed discarded event flowers for individual bouquets.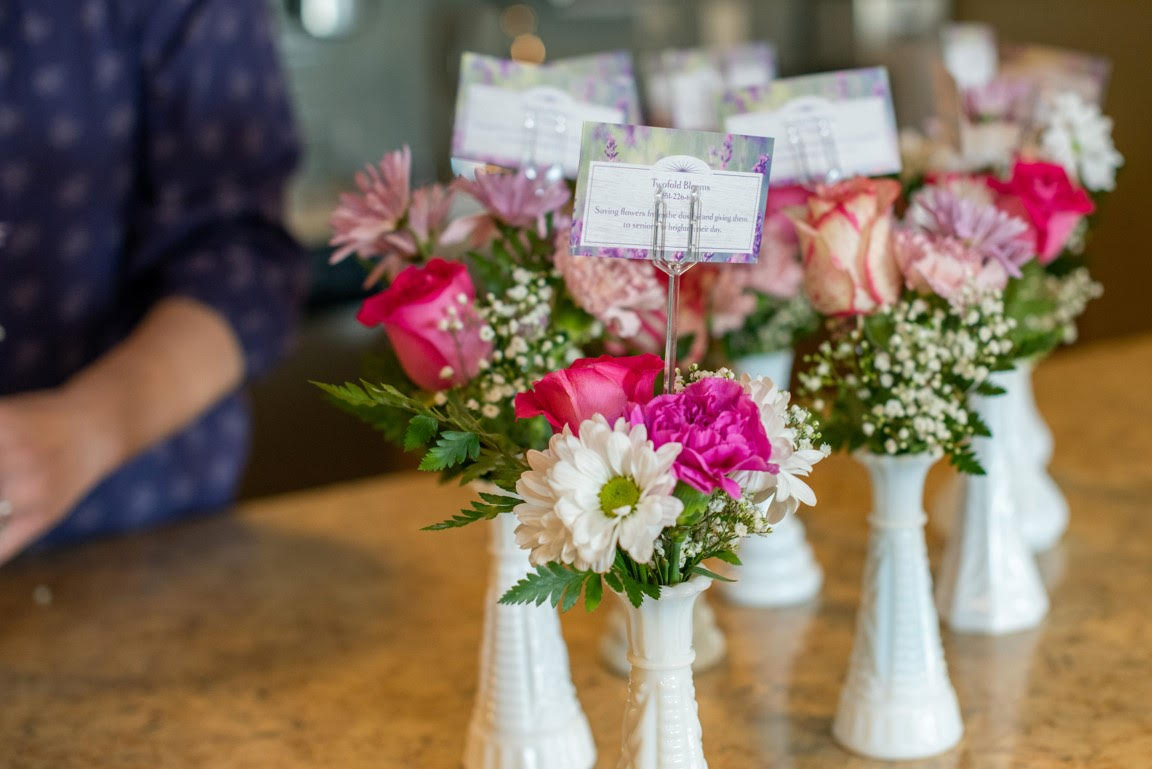 Marie set to work adapting Beth's program to Twin Cities southeast metro. "You have to give back. You have to find a way to put a little sunshine in other people's lives when you can," said Marie. "It's so simple. It's such a simple, simple concept." 
White Funeral Homes in Farmington became an early partner of Marie's organization. White Funeral Homes call Marie whenever they have arrangements left after a memorial service. "If they only have two arrangements, I can turn that into flowers for 32 people. They'll call me and say that I only have two arrangements. I'll come get whatever they have."
Marie recently made a delivery to Beehive Home in Lakeville during the residents' dinner hour. "You could see people's faces light up because the flowers entered the building. We put some of the arrangements right on the table. It felt so good," shared Marie.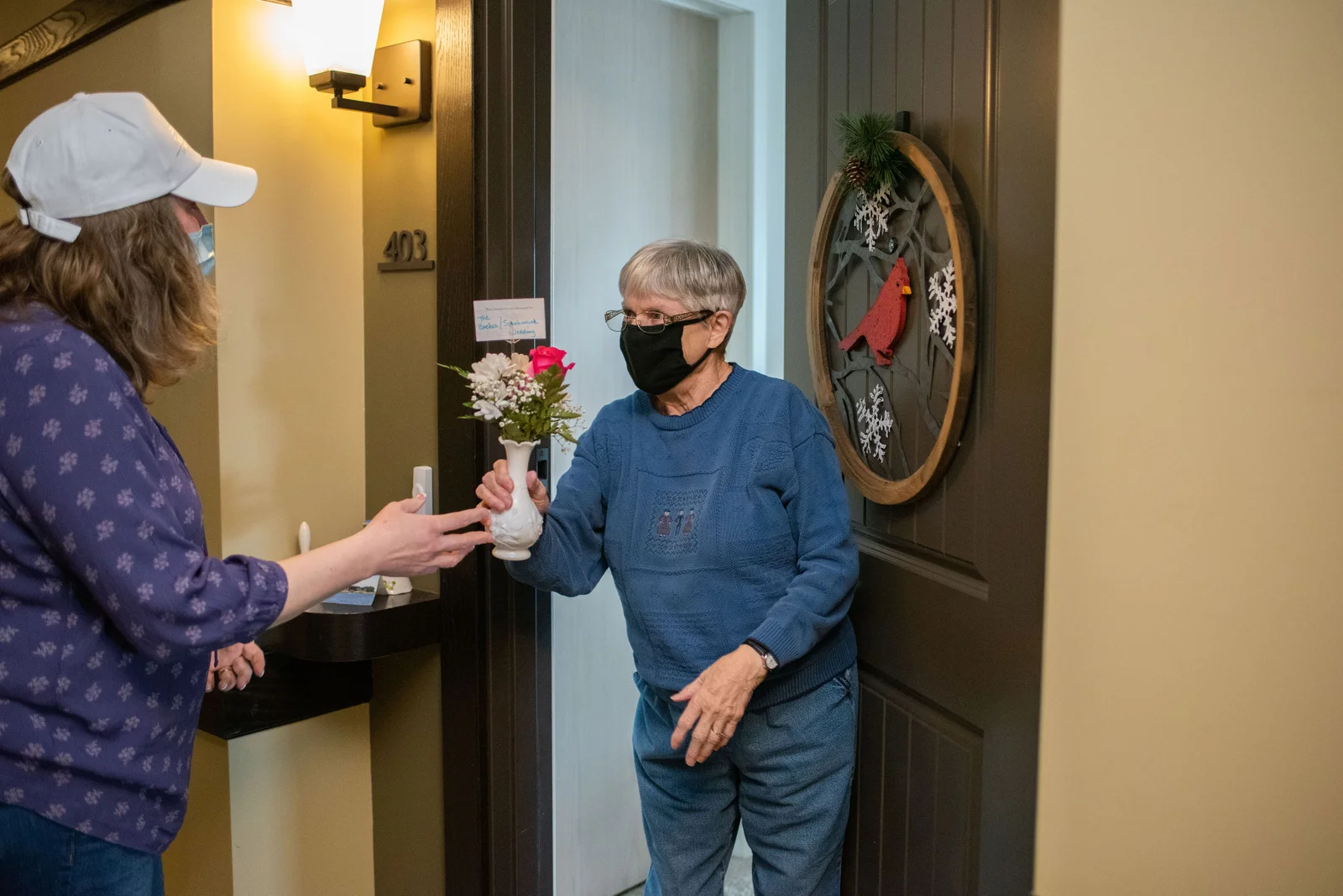 Twofold Blooms is completely run on donations. After Twofold Blooms' first year in operation, Marie has connected with additional sources for floral arrangements and delivers to more than ten senior facilities around the Twin Cities Metro. 
Twofold Blooms is currently fundraising to insulate and perform basic renovations to the farm outbuilding that serves as her floral design headquarters to be able to use the space year round. Marie also needs to purchase a commercial floral fridge to store flowers after they've been donated and before they're delivered. A portion of the price of the subscription boxes from The Lavender Barnyard (Marie's U-Pick lavender farm) support the work of Twofold Blooms.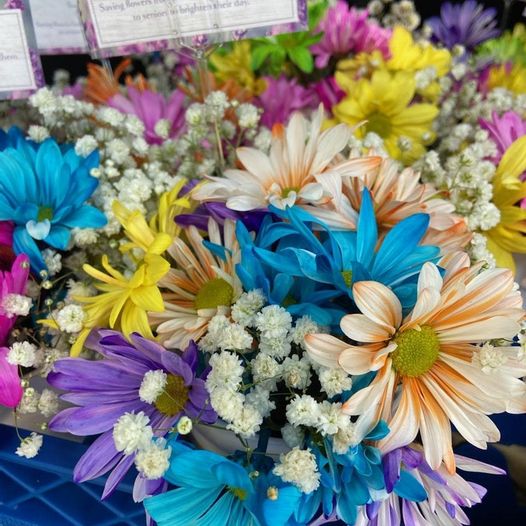 Twofold Blooms is always in need of floral and vase donations as well as volunteers who are interested in designing individual bouquets and making deliveries to area hospice and memory care centers. Contact Marie through https://www.twofoldblooms.org or at [email protected] to get involved. 
Visit twofoldblooms.org to learn more about Marie's purposeful repurposing that works to spread joy—one bloom at a time. Find a list of the facility partners and suggest a new one. 
Follow @twofoldblooms on Facebook and Instagram for a direct link to Marie's Go Fund Me and for caregiver support. 
Follow @meettheminnesotamakers on Facebook and Instagram to discover the local change makers who make Minnesota amazing!
Share This Story, Choose Your Platform!