By Michelle M. Sharp, Founder and Content Creator of Meet the Minnesota Makers
How would you define a change maker? I think of someone who seeks creative solutions to solve the problems our world faces. In this first maker series for 2023 Meet the Minnesota Makers introduces you to some of Minnesota's small business owners who make positive changes reality.
Did you know that every time you purchase a Simek's product Lindsey Hickey and the rest of the St Paul Park based Simek's team donates a meal to a Feeding America food bank? What about Simek's partnership with rePurpose Global to remove an equivalent amount of plastic from the environment as is used in the packaging and shipping of their products?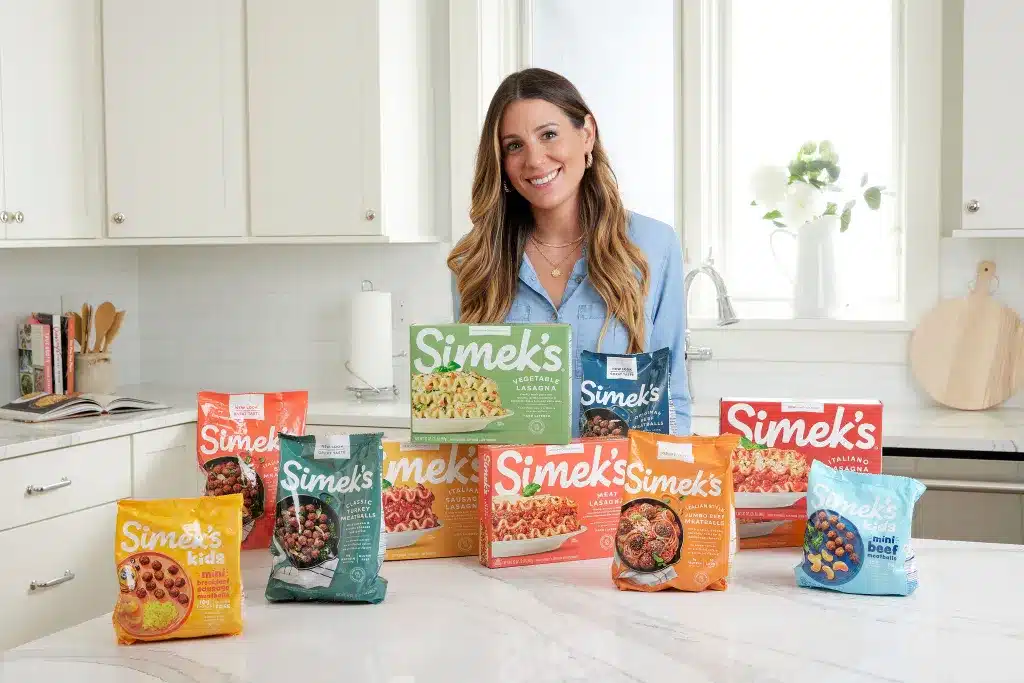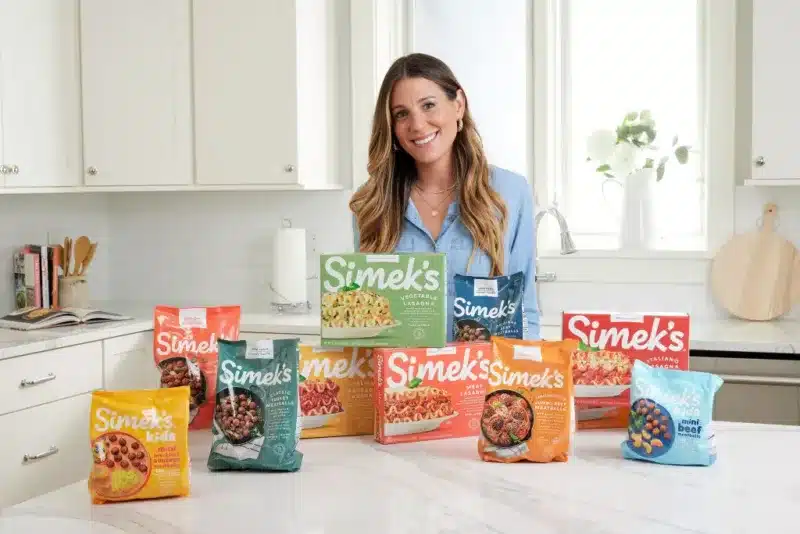 Simek's produces convenience food products made without preservatives, artificial colors, or flavors. Whether you're a long-time fan of their lasagna or a recent purchaser of their kid's mini breakfast sausage meatballs, each purchase affirms the company mission of "Eat Good. Do Good." This is why Lindsey Hickey felt like a perfect choice to start our Meet the Minnesota Makers series on area change makers.
Lindsey is the CEO and Co-Owner of this second-generation family business. She joined the company after it had transitioned from running 15 specialty retail stores throughout the Twin Cities to a grocery store brand. When she started directing the company in 2010, "I really had to learn the lessons of what to do. We had made a lot of changes and had more to go."
Lindsey's priorities started with an in-house cleaning of their ingredient lists and learning how to share the Simek's brand mission with their customers. "We've been a mission-based brand from the start. We've always donated 10% of our profits to charity. We are always focused on how we give back; how we make a difference," shared Lindsey. "However, we didn't talk about it. We didn't want people to think we were using our mission to drive sales for the business. We're driving sales for the business so that we can give back even more. We had to learn to talk about it."
Lindsey moved the company's mission into taking direct action on both food insecurity and consumer packaging waste. Simek's established its partnership with Feeding America in 2017. The meal donations are made locally so that Simek's can positively impact any community in which it is sold. When you buy meatballs in Saint Paul, a food bank that serves Saint Paul receives the donation. If you purchase a lasagna in the Chicago area, the donated meal stays there. "This was really important to us coming from our base as a local community store. We want to have a connection with our communities. As you grow it's easy to lose that connection with your customers, especially when you sell through other retailers."
Simek's donated over 2.8 million meals in 2022. Since starting their partnership with Feeding America, they have donated over eight million meals.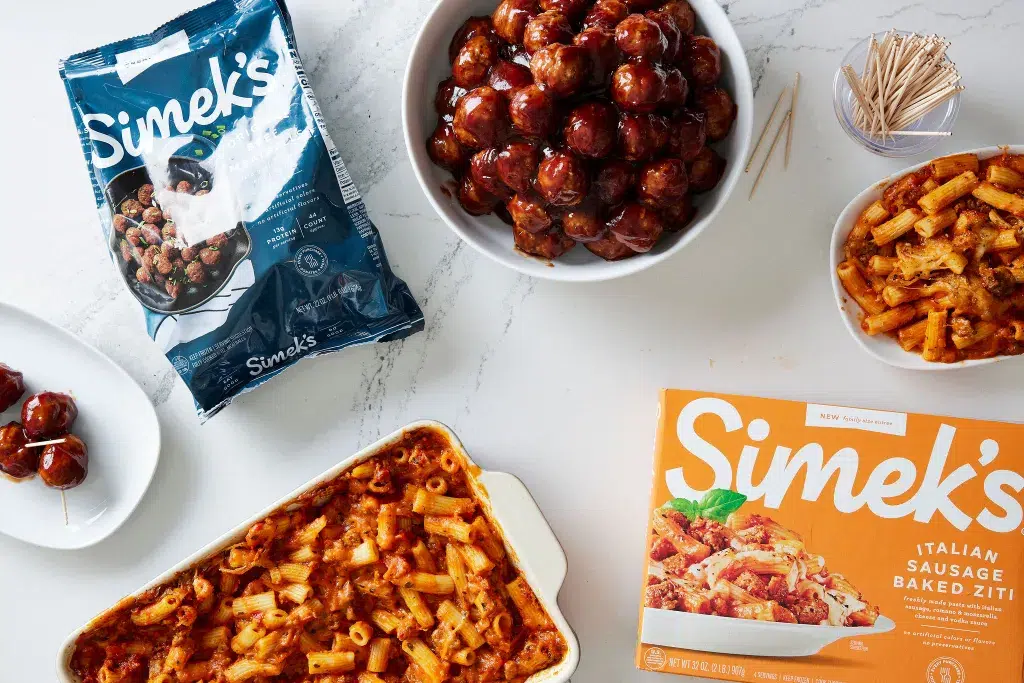 Wanting Simek's products to be a key part of the solution to the dilemma of dinnertime, Lindsey and her team addressed the packaging that allows them to serve their customers. You can find Simek's products in over 4500 stores—that means that there's a lot of shipping and packaging involved, even with their suppliers and production facilities all being based in the midwest.
Simek's partnership with rePurpose allows them to achieve a net zero plastic waste footprint in their packaging. rePurpose works with communities throughout the world to manage and collect their plastic waste so that it never reaches our oceans and seas.
When Lindsey and I spoke, she and her team had just completed their B Corp Certification. "We are the only woman-owned frozen food brand in the United States with this certification. Our goal is that we can one day say that we are the first because others will have taken this step," explained Lindsey. "We are super proud of this. It's been a two year process to achieve this. We believe in a global movement of using business as a force of good. It's such a wonderful thing that there is a large organization out there holding companies accountable."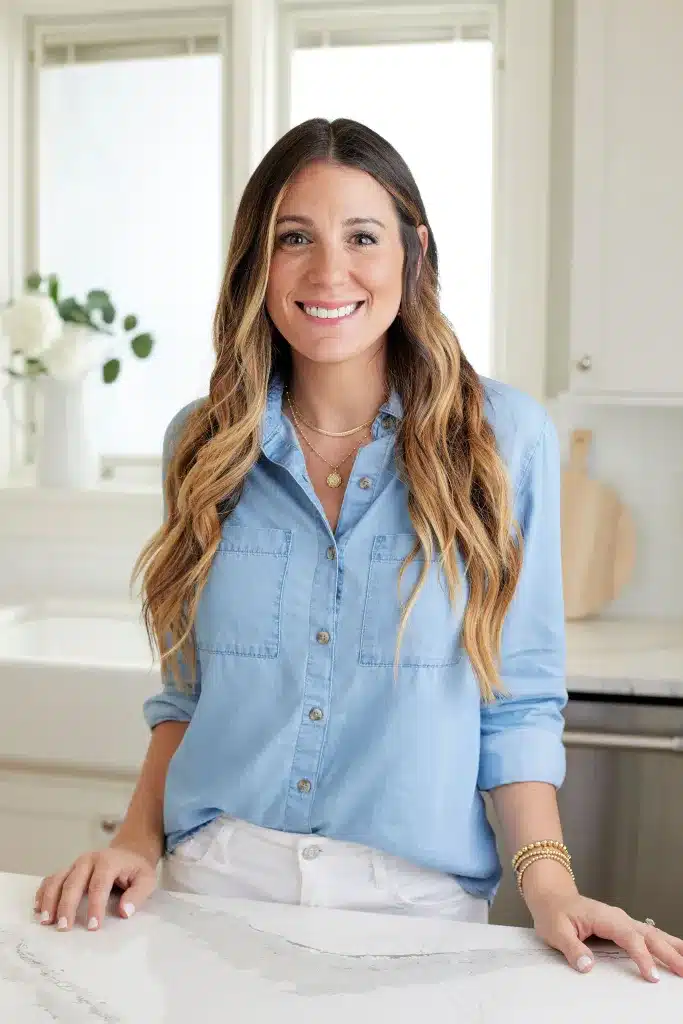 For Lindsey, addressing food insecurity and packaging waste is part of how she measures Simek's success. "We value profit, our impact on hunger, and the effects of our decisions on the environment all equally. I wish this was a requirement for all companies," said Lindsey. "These are basic human rights. If Simek's can make even a small impact, a drop in the bucket, it's a drop more than the bucket had before. It's vitally important to show people coming up and founding new companies that there is a lot of power in that mission of giving back. I'm hoping that others will see what we're doing and jump on board."
On a very local level, Lindsey's three young children were part of the inspiration of the new kids' line of mini-meatballs and breakfast sausage. "I struggle with getting protein into my kids and trying to get us all out the door in the morning. My kids gobble these up. I can always depend on them!" As for her favorite local food haunt, you'll always find Lindsey at the Minnesota State Fair. "I love the Fair. There are some really neat items outside of everything on a stick. I always have to get my cheese curds and a turkey leg, plus some corn—have to throw in a vegetable!"
At the end of the day, Lindsey is filled with gratitude for the small, dedicated team she has formed as a work family as well as the strong support of the village she has formed to support her young family. She has found a passion that she never imagined for meatballs and the power of feeding people well. "Getting to work with this team that feels like family while making an impact—that in itself gets me out of bed and makes me excited to get in here and work with my team. The bigger impact, to be able to make decisions to say —we can do that—we can make it happen—and to have the platform to truly do so—it just makes me so excited about what we'll be able to do next."
To find a store near you and explore more of Simek's products visit https://simeks.com/.
For recipe inspiration for how other families enjoy Simek's at home, follow @simeksfoods on Facebook and @simeks on Instagram.
Follow @meettheminnesotamakers on Facebook andInstagram to discover the local change makers who make Minnesota amazing!

Share This Story, Choose Your Platform!