By Michelle M. Sharp, Founder and Content Creator of Meet the Minnesota Makers
"Growing food is stressful," explained Jade and Carrie of the artist-led Black Radish Urban Farm in Minneapolis. "It's also a beautiful thing. Local food can build community."
Working from their own home and 12 other yards in south Minneapolis, Jade and Carrie cultivate fruits trees, maintain chickens, nurture potatoes, and battle jumping worms. This installment of the MTMM local food series explores a different vision of what a farm can look like. 
Through their Wednesday Rounds that they share on Facebook and Instagram, everyone's invited to celebrate sexy eggplants, towering sunflowers, and bountiful beans grown in magical tunnels. Jade and Carrie also use the Wednesday rounds to document the challenges of summer hail storms, battles with squash vine borers, and how they mindfully convert urban lawns to pollinator-friendly spaces with high density produce yields. 
Over 40 families benefit from their efforts through The Black Radish's CSA. Since founding their urban farm in 2018, they now distribute a 12-14 week share of organically-grown produce. "We're amazed at how growing food in our urban area has brought so many people together," said Carrie. 
"We wanted to do something that would bring our community together after years of working in the art world," shared Jade. Living about a mile from George Floyd Square, Carrie and Jade sought to create a fruitful space for community healing. "The upheaval of the past few years really drove our mission to build something different, something for everyone to share," said Jade. 
Members enter backyard cedar shed to contemplate the week's offerings. Following the path around the house feels like a mini-retreat. The dark wood of the shed, a result of a stain made from vinegar and steel wool, gives way to a cool and quiet space. The gentle hum of the air conditioning unit they installed to keep the produce fresh feels like a zen water feature. The air is perfumed with the fresh potential of all of the veggies and fresh flowers. It's so peaceful.  
The Black Radish's CSA members visit the backyard shed each week and choose, with some guidance, from the bounty on display. Members often have the shed to themselves, which allows for a moment of reflective gratitude for what's on offer. Jade takes charge of arranging the produce and creating a uniquely whimsical menu board each week. 
Carrie oversees the weekly harvest. She has a deep love for potatoes, total admiration for straw flowers, and is very protective of her herbs. Thanks to a partnership
with the Standish Cafe, they are able to begin picking the produce on Tuesday and store it in the restaurant's coolers. 
Jade is partial to their Swiss chard and summer squash. He's also become a big fan of their Japanese turnips. "I love how we keep learning about new vegetables as we expand our farm," said Jade. "Some of it comes from community suggestions and some because they're things that we want to try. We do a lot of experiments." 
Carrie and Jade agree on their favorite parts of their journey into farming. "We love learning about our neighbors and helping them when they need help," they shared. "It's so fun to see what people make out of our produce. We love when people share their menus that they shaped around our produce."
Another powerful benefit of their farm is being able to donate food. After the harvest is shared among their subscribers, the surplus goes to a free farm stand in front of their house. "We shopped around for places to donate and realized we could do it ourselves right here. This allows us to give the produce directly back to the neighborhood," they explained. 
Jade and Carrie also welcome neighbors who invest in the farm through labor shares, exchanging time spent weeding, planting, and preparing the harvest for their own shares of the weekly produce. 
"Our farm in non-traditional in every aspect," shared Carrie. "We feel like it's more community art than farming. We want to be able to replicate our model and grow into other
neighborhoods. More people should be able to come together in their own community through food." 
Visit theblackradishmpls.com to learn about the membership levels. Pricing reflects The Black Radish's goal to provide equitable access to membership. Become a sponsor to enable the purchase of tools, additional plot acquisition and conversion, and a future greenhouse to extend their growing season. 
Contact Jade and Carrie [email protected] for information on signing up for 2024 shares. 
Follow @theblackradish_ on Facebook and Instagram to join Carrie, Jade and their kids on the Wednesday Rounds. 
Follow @meettheminnesotamakers on Facebook and Instagram to discover more of the people who make Minnesota a tasty place to be!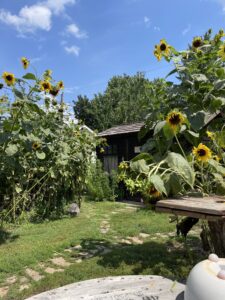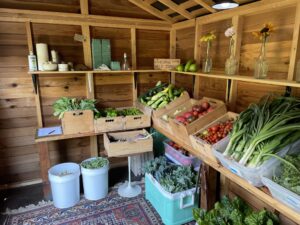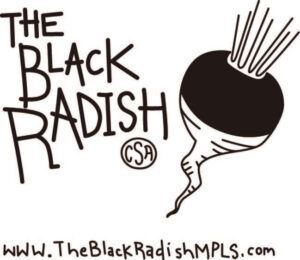 Share This Story, Choose Your Platform!