By Michelle M. Sharp, Founder and Content Creator of Meet the Minnesota Makers
"I get the question a lot—how did you end up like you?," shared Rick Schneider of Isanti Spirits. "I had parents who grew up out of the Depression era. My parents pushed us to follow the dream, to do what we wanted to do. I listened."
A shocking loss as a teenager further drives Rick to leave meaningful marks in his corner of the world. "A girl I was supposed to go to prom with was stabbed by an ex-boyfriend three days beforehand. I was gripped with mortality in my teens. You will be no more," explained Rick. "Why waste my time on anything I don't want to do? I want people to show up at my funeral saying that we all should have done what Rick did. People know that I'm not wasting my time."
Rick's professional life consists of three really well developed side gigs: distilling bourbon, gin, and whiskey, teaching glass blowing at Anoka-Ramsey Community College,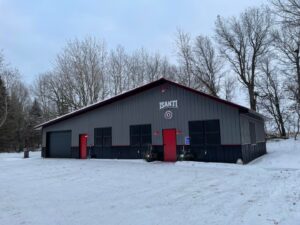 and music (Rick often plays a song or two at to open the front porch live shows held at the Cocktail Room). 
Glass blowing, live music, friendly chickens, and solar-powered spirits: these are among the highlights you'll find in this installment of local food (and drink!) on MTMM as we visit Isanti Spirits in Isanti, MN— "Rural in its heart. Punk rock in its soul."
Rick hopes that his own pursuits will inspire others to follow their dream, develop a side gig, and embrace what they find to be fun. Now in its tenth season, Isanti Spirits invites you to try their truly Minnesota-made beverages. The Rye Whiskey and Sunken Bobber Bourbon are made with local grains and water. They age in Minnesota-made barrels. The Tilted Cedar Gin additionally includes juniper from trees grown on the property. Visit the on-site cocktail room to enjoy delicious cocktails at a different pace.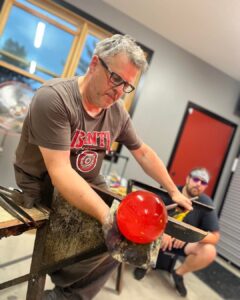 The establishment of the distillery in Isanti, which was the longest running dry county in Minnesota, happened due to a mistake. Rick, who grew up in Rochester, laments when he and his wife Nikki moved to Alabama for teaching jobs "Everything about it was wrong for who we are," shared Rick. 
After having taught glass blowing for 15 years, Rick contemplated leaving the profession altogether. Rick's students are among the biggest names in the world of blown glass.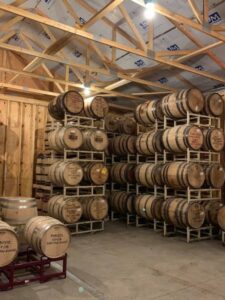 His original pieces are on display at New York's Museum of Art and Design and Tacoma, Washington's Museum of Art. "I had made my mark. I thought I could walk away from glass blowing and do something else." 
A Google search about whiskey led Rick on a new adventure learning about the burgeoning distillery community across the United States. Rick enrolled in a course at Dry Fly Distilling in Spokane, Washington to prepare to establish his own distillery. When he returned from the course, he learned that his dream job in glass blowing—his current position at Anoka-Ramsey Community College—was his. The summer of 2012, he and Nikki returned to Minnesota with a fresh slate for their family.  
Establishing their unique distillery and cocktail room required patience. In order to build the distilling space on their property they had to legally separate the distillery land from their residential property. A intense lesson in local politics resulted in a county ordinance to allow distilleries to exist on agricultural and residential zoned properties. "Because of me the last dry county in Minnesota is the only county that allows a business like mine by ordinance," said Rick. "I'm not the only rural distillery. I'm just the only one with a custom ordinance."
"I'm just having fun. I love doing the tours and sharing what I've learned with other people who care about distilling. I hope that when people come here they see it as something unexpected and have fun with it," explained Rick. "I love seeing this space through the eyes of our guests. They see the luster, the magic of a place that you have to find. You're not going to stumble upon our cocktail room." 
Isanti Spirits is a part of the eight member East Central Craft Beverage Trail. This collection of wineries, breweries and Isanti Spirits provides an opportunity to visit unique craft beverage makers within easy driving distance of both the St Cloud and Twin Cities metro areas.
Make the drive to Isanti Spirits to enjoy the cocktail room open Friday, Saturday and Sunday. Tours take place Saturday afternoon. Check their calendar for live music and glass blowing demonstrations. 
Visit https://isantispirits.com/ for your nearest retail location to pick up a bottle of these Minnesota made spirits. Check out Isanti's Awards page for community recognition from this micro-distiller. 
Follow @isanti_spirits on Facebook and Instagram for loaded Bloody Mary pictures (including a sweet waffle corner) and event dates.
Follow @meettheminnesotamakers on Facebook and Instagram to discover more of the people who make Minnesota a tasty place to be!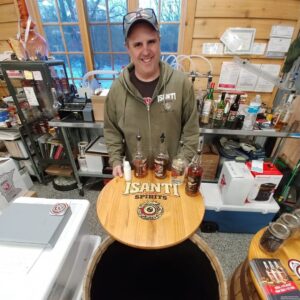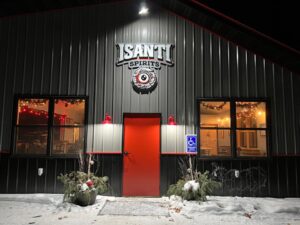 Share This Story, Choose Your Platform!