By Michelle M. Sharp, Founder and Content Creator of Meet the Minnesota Makers
It all started Up North. 
Isn't that a great start to a feature on local food in Minnesota?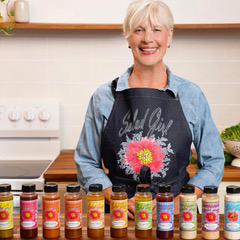 This latest feature for the summer MTMM local food series brings you international flavors first tested at the Mill City Farmers Market. 
Working summers at Madden's on Gull Lake taught Pam Powell, founder of the Salad Girl fresh organic dressings, a love for local food. 
"Learning how to make salads at Madden's—I learned how to make a vinaigrette there. It was magical to me. I learned that you just have to mash up bleu cheese, eggs, cream, and vinegar and add sugar, salt and pepper to make a beautiful bleu cheese dressing with spinach and onions. All of the ingredients came from local famers. Any flavor was possible with good local ingredients. I loved being the salad girl." 
Pam spent several summers working at Madden's—starting as a dishwasher and salad girl when she was 15. She worked her way up the totem pole to be a server and bartender. "It was a wonderful job to learn food." This summer job laid the foundation for her lifelong quest of fresh, whole foods. 
Within her role as the salad girl at Madden's, Pam had the freedom to experiment as her kitchen and pairing skills grew. "I started playing around with stuff myself. We made blueberry conserve from the blueberries they grew there. This conserve years later was the base of my idea for the blueberry basil dressing." 
You can now buy Salad Girl Dressings at over 400 Midwest stores including Cub, the Greensted, Hy-Vee, Jerry's, Kowalski's, Lunds &
Byerlys, Mariano's, Target, Whole Foods, and co-ops throughout the Midwest. Pam sees Salad Girl as a Minnesota Company even as their distribution has grown. "Minnesota has my roots. The most important things that I learned about food, how people interact with food, and how restaurants bring people together around food happened here." 
Pam and Jim developed a fan-base for her salad dressings at the Mill City Farmers Market starting in 2007. The Salad Girl started with five dressings: Apple Maple, Blueberry Basil, Curry and Fig, Lemony Herb and Pomegranate Pear. Each time they scaled up their production, they sold out. "It was an exciting time. My husband Jim came the first time to help me set up the tent and brought the box with change for my customers. He had planned to leave, but the sales were so steady that he never left!"
By the end of 2007, Pam and Jim moved their bottling operation to a commercial kitchen. In March 2008 the Salad Girl dressing debuted in all Twin Cities Kowalski's locations. People
were surprised by a fresh dressing that required refrigeration. It was a new product category at the time. "It works. People don't want to run all over the place to buy their ingredients," said Pam. "They find the dressing, read the recipe on the bottle, and then pick up all of their ingredients in the product department." 
Salad Girl now offers 11 unique varieties all prepared with fresh ingredients. All of the dressings are organic, dairy-free, gluten-free, certified kosher and non-GMO. In addition to serving as a splash of flavor on your salad, the vinaigrettes work well as marinades or finishing sauces. The dressings can be used for dipping or splashes of flavors with fresh grains or pasta as well.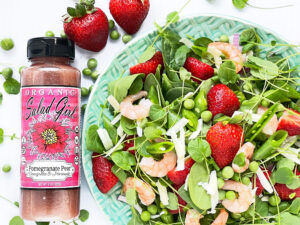 Salad Girl is a family-owned business. Pam and Jim, along with Pam's sister-in-law Sarah Sullivan, manage the daily operations, trade shows, and recipe development. They have partnered with a co-packer in East Troy, Wisconsin for their midwest distribution. "We don't want to grow out of the Midwest. We want our product to be sustainable," explained Pam.  "Working at this scale allows us to keep our product standards high without the negative impact of shipping all over the country."
After fifteen years of her current Salad Girl role, Pam delights in what her company has come to represent. "Right now my favorite part is standing back and looking at what we achieved. I made a dent. I went from being the dishwasher to being here. I offered families a choice of a way to eat healthier," shared Pam. "People can trust me, can trust the product they're choosing off the shelf. They're feeding their family something good."
Visit https://www.saladgirl.com/ to find a store near you or discover a new recipe for your favorite Salad Girl dressing.
Follow @thesaladgirl on Facebook and Instagram to join their Summer Midwest Eat Local challenge. 
Follow @meettheminnesotamakers on Facebook and Instagram to discover more of the people who make Minnesota a tasty place to be!
Share This Story, Choose Your Platform!