By Michelle M. Sharp, Founder and Content Creator of Meet the Minnesota Makers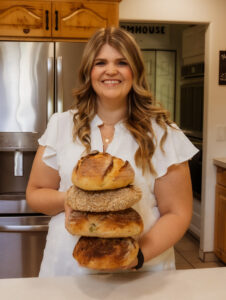 Jamie Levenhagen found her joy again when she started making sourdough bread during the pandemic. 
Baking sourdough was more than a passing hobby for Jamie. It became a calling. 
She found a mission in providing high quality food to the people in her community. By the fall of 2021 she founded Sourdough on the Farm from her Hitterdal, Minnesota home. This homegrown bread enterprise is a delicious addition to the MTMM summer food series. 
"I was learning, growing and baking for our family and close friends/family only. Shortly after that I decided to do my first market with my cottage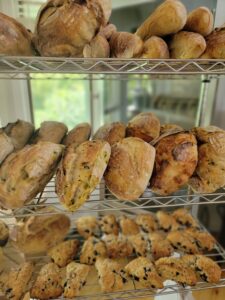 license. It was a huge success!," shared Jamie. "From there we've grown and blossomed into what we are now. We are wholesale commercially licensed and cottage licensed. We sell bread-making courses, breads, desserts and merchandise to our friends and customers."
Every week Sourdough on the Farm offers a menu of regular favorites and seasonal specialties like sourdough blueberry scones for pick up and local delivery. They source their grain from a mill in Middle River, MN and include as many other locally-sourced ingredients as possible. 
Jamie's biggest surprise in founding her own business? The great need there was for her wholesome breads in western Minnesota. "I can't believe how much we continue to grow. I never in a million years thought we'd be licensed for wholesale commercial selling."
Providing great quality bread that isn't full of added ingredients prompted Jamie to develop her gluten-free sourdough starter. "When I announced our new gluten free course I had people legit cry. Everyone should be able to eat good quality bread."
Both the starter and the course are available at www.sourdoughonthefarm.com. Use code bread10 for a 10% discount on the course. Jamie walks you through the process of using the gluten-free starter to make bread for your loved ones. A course for their original sourdough starter will be available later this month. 
She also runs a Facebook group for anyone who has taken the class or purchased her starter to compare notes, ask questions, and share beautiful pictures of their baked goods. 
Through her courses and her Instagram feed, Jamie educates about sourdough and its health benefits. "I show my love for my community through food. I want others to know about it and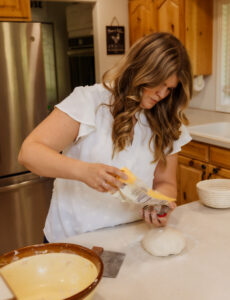 to be able to make it for themselves. Every single person should have access to food that is good for us at a decent price."
In addition to sourdough tips and tricks, Jamie also shares the ups and downs of life on their farm. She and her husband Andrew moved to the farm in 2018. They now share the space with their three young children, a large butterfly garden, chickens, ducks, pigs and more.  
Never a dull moment. Many, many tasty ones. 
Eat well. Eat local!
Visit sourdoughonthefarm.com for weekly menus, sourdough starters, and bread-baking accessories unique to Sourdough on the Farm. 
Look for Sourdough on the Farm at Goose Fest in Middle River, MN September 22-24th.
Follow @sourdoughonthefarm on Facebook and Instagram to see what's new in Jamie's kitchen. Use the Facebook link to place an order. 
Follow @meettheminnesotamakers on Facebook and Instagram to discover more of the people who make Minnesota a tasty place to be!
Share This Story, Choose Your Platform!