By Michelle M. Sharp, Founder and Content Creator of Meet the Minnesota Makers
For Melissa Daul of Minneapolis, the discard pile receives new life through her wood working business Reclaimed North. 

Melissa started turning wood in 2018. Her first teacher was her father, a fantastic wood worker. Melissa's focus quickly went beyond just making pretty things, "I wanted to have the ability to use cast offs, reclaimed materials, and other things that may be discarded." As her artistic aesthetic has developed, Melissa found an additional medium, "I'm a sucker for sentimental value. I have branched out to include things like fabric from shirts of loved ones to make unique pieces that can be used and treasured."

Melissa loves the process developing a piece. "Everything I make is one-of-a-kind," shared Melissa. "It's so fun how every piece has a
story."

Melissa's greatest frustration is when her pieces sit idle. "I'm always surprised when people tell me they don't want to use the pens I make because they're 'too nice' or 'too special'," reflected Melissa. "Everything I make is meant to be used and enjoyed!"

Melissa welcomes commissions. "The process of collaboration, creation, and presenting the finished product is unique with each customer. Their reaction to the final product makes my day." Melissa strives to make sure that the final product delights her customers. As her dad says, you are only limited by your imagination!

Melissa appreciates the collaborative nature of the maker community. "I love the willingness to share! So many folks are happy to share what has worked (or not worked) for them as they've launched their endeavors."

Melissa's first show will be the @mplscraftmkt on June 5 from 12-5 @sociablecider. Stop by to give her some love and tell her you saw her on Meet the Minnesota Makers!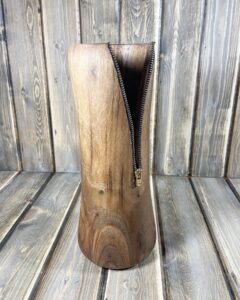 Browse Reclaimed North's full selection of  beautifully detailed pens, bottle stoppers, seam rippers, bowls, salt cellars, and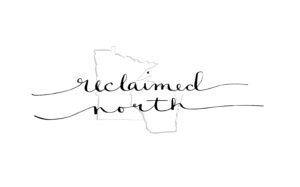 earrings on her Etsy shop.
Follow @reclaimednorth on Facebook and Instagram to see Melissa's latest designs like the stunning zipper vase pictured here.
Follow @meettheminnesotamakers on Facebook and Instagram to discover the change makers bringing out the best in Minnesota!
Share This Story, Choose Your Platform!