By Michelle M. Sharp, Founder and Content Creator of Meet the Minnesota Makers
Why should you work with a brand and product photographer?


Bre McGee of UnCommon Collaborative and I connected over our mutual interest in sharing makers' stories. To assist me with my leap into small business ownership, Bre invited me to experience her mini branding photo session.

I graduated before senior pictures were a destination event. Aside from my wedding day, my experience with professional photographers had been "lift your chin, look to the right". I had no idea what to expect.

My morning with Bre was exceptional. For my session, Bre encouraged me to think about my  writing process. How do I plan, create, and edit the stories? Where do I find inspiration? We talked props, wardrobe, mood, and sprinkled bits of kale all over her studio. (Sorry about that, Bre!)

Bre can come to you or you can make yourself at home in her customizable studio. Bre's creative process allowed me to relax into the joy of sharing some of my own story. We recreated writing, interviewing, and cooking—the elements that I seek to share with you—to better tell my own story.

Bre specializes in behind-the-scenes photography for in-person service providers who work 1:1 with their clients.

How can this help?

"Think about considering booking a service with a new esthetician and you have no idea what to expect: where to park, what the salon looks like, what the service entails, what the service actually feels like – before, during, after – because clients' eyes are closed the entire time anyway!" explained Bre. "Opting for high-quality, strategic photography positions service providers as more trust-worthy, professional, and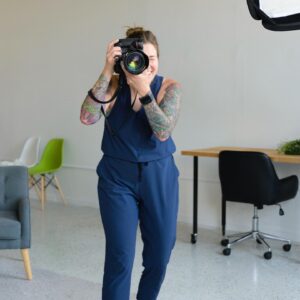 experienced!" 

Bre is also expanding product-specific photography services. This can be behind-the-scenes product creation, styled products, and finished products in their forever homes.

Visit uncommoncollaborative.com for more on Bre's process and her portfolio.

The images in this story are coached pictures of Bre taken by me. 

Follow @uncommoncollaborative to see life in Bre's studio.
Follow @meettheminnesotamakers on Facebook and Instagram for more change makers who make Minnesota an amazing place to be!
Share This Story, Choose Your Platform!