By Michelle M. Sharp, Founder and Content Creator of Meet the Minnesota Makers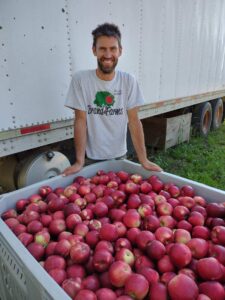 The only thing that can make one of Aaron Brand's favorite apples, the Haralson, better is turning it into a caramel apple. "The caramel apples are my favorite item in our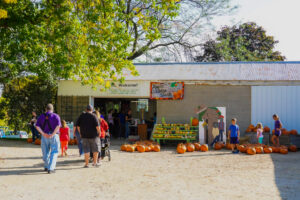 farm's store. It's good to snag one every now and then." 
Many know Aaron and Farmington's Brand Farms from fall visits for apple picking, hay rides, and a dip in the zinnia field bath tub. Others love the thrill of the high speed apple blasters. Perhaps you've chaperoned a school field trip or participated in an on-farm date night. 
All of your Brand Farms favorites are possible thanks to Aaron's grandfather Richard. Richard bought the land that is now the home of happy chickens, apple trees, and fields of pumpkins. Aaron's great grandfather Anton was the first of their family to settle in the area. Aaron's oversight marks four generations of Brand Family farmers with a fifth generation currently growing up to enjoy the farm and all its homegrown treats. 
"It really started with the eggs," explained Aaron. "We started with 50 egg layers back in 2007. I put a sign by the road and had a small self serve." As Brand Farms' eggs grew in popularity, Aaron built a larger hen house and increased the number of his flock. Today the farm averages 2000 free-range chickens.
Brand Farms' eggs are a favorite of area bakers (including several cottage bakers who've been featured in this column). You can find a fresh dozen at the Eagan and Lakeville Hy-Vee grocery stores year round.
The most loyal egg customers still stop by the farm for the self-serve station. Eggs are always available along with frozen chickens, apple sausage, and a rotating selection of jams and jellies. "Our customers are the best. I'm so grateful," smiled Aaron. "I can leave out a change jar and people help themselves. Some days I'm over and some days I'm short. The accounting always works out in the end."
Follow Brand Farms on Facebook and Instagram for current hours and special events. Stop by for eggs, apples, and jams and jellies at 18605 Biscayne Ave, Farmington, MN 55024. 
Follow @meettheminnesotamakers on Facebook and Instagram to discover more of the people who make Minnesota a tasty place to be!
Full feature and Brand Farms' Raw Apple Cake at the SunThisWeek.
Share This Story, Choose Your Platform!