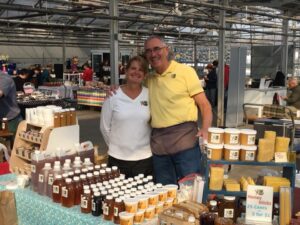 By Michelle M. Sharp, Founder and Content Creator of Meet the Minnesota Makers
On April 5, 2021 the initial "Meet the Minnesota Makers: Land of 10,000 Treats" column was published in the Sun ThisWeek and the Dakota County Tribune—my first step in supporting local businesses through storytelling.


That first column introduced Larry and Arlene Hill of  Aspen Ridge Honey who I had met at the St Paul Farmers Market in Burnsville. Larry engagingly shared how a stop at the Minnesota State Fair horticulture building changed their lives in a sweet way.

Larry started with two colonies and extracted 30 pounds of honey. "I got stung a lot that first year," he said with a laugh. The next year he took a course through the University of Minnesota and bought a bee suit.

"Bees are amazing creatures." He described the organization of a colony (a queen bee's family of 50,000-60,000). Each hive has its own personality. When it's a chilly, drizzly summer day, the bees can be cranky. Larry's learned to come back when they're in a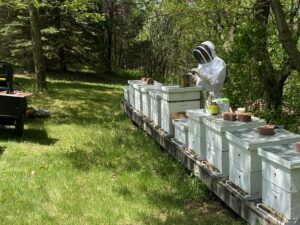 better mood.

Besides the bees, the best part of the job is people. Making customer connections makes the difference in people buying their products. Larry feels that they had good timing, "When we got started, people were starting to think more about eating locally. It boded well for all of us at the farmers markets. When we got into the honey business, that's when the bees started struggling so that was in the news a lot. The most important job you have as a beekeeper is educating other people about bees."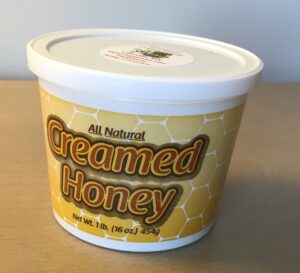 Since our original interview, Aspen Ridge Honey Farm has expanded to grow organic micro greens, "One of the healthiest and best tasting foods on the planet to go along with Honey, which is great for you too."

Visit www.aspenridgehoney.com for market schedules and their full line of products. Take advantage of their free delivery in the Twin Cities metro area. Try their soothing hand creams or treat yourself to their creamed honey, one of my kiddos' favorite toast spreads.  

Follow Aspen Ridge Honey Farm on Facebook and Instagram to know what's going on in the hive.
Follow @meettheminnesotamakers on Facebook and Instagram to discover the local makers who make Minnesota amazing!
Share This Story, Choose Your Platform!