Andrea Claassen thinks that the fitness industry has failed, especially when it comes to women's health. The overall marketing and messaging for women is unhealthy and unsustainable. The predominance of quick-fix programs leads us to fail repeatedly. "The fitness industry is a big business and yet we have more obesity and chronic illnesses. There's clearly a disconnect. When we focus on short-term results instead of lasting lifestyles, we will fail over and over again." 
With over 15 years of experience as a personal trainer, Andrea's fitness evolution began as a high school athlete growing up on her family's south central Minnesota farm where they raised pig, corn and soybeans. "I'm a big fan of living seasonally. We're very much attached to the seasons on the farm. You have to be. When I went to college I got away from that," reflected Andrea. "When I discovered Ayurveda, nature's wisdom, it made sense to me. What's going on outside is going on inside of us. That's something I like to tap into with clients. I help people to embrace all the seasons, including winter." Our dependence on convenience foods and produced shipped out of season has disconnected us from some of the wisdom and natural rhythms of our grandparents. 
Her journey from college athlete to Ayurvedic Wellness Coach and Personal Trainer was a gradual process for Andrea. Her goal is to help clients balance their hormones and live in sync with their bodies' natural rhythms. Andrea publishes her weekly Peaceful Power Podcast (https://andreaclaassen.com/peaceful-power-podcast) to provide resources about Ayurveda, seasonal living, and being comfortable with trying multiple modes of fitness until one finds the right fit.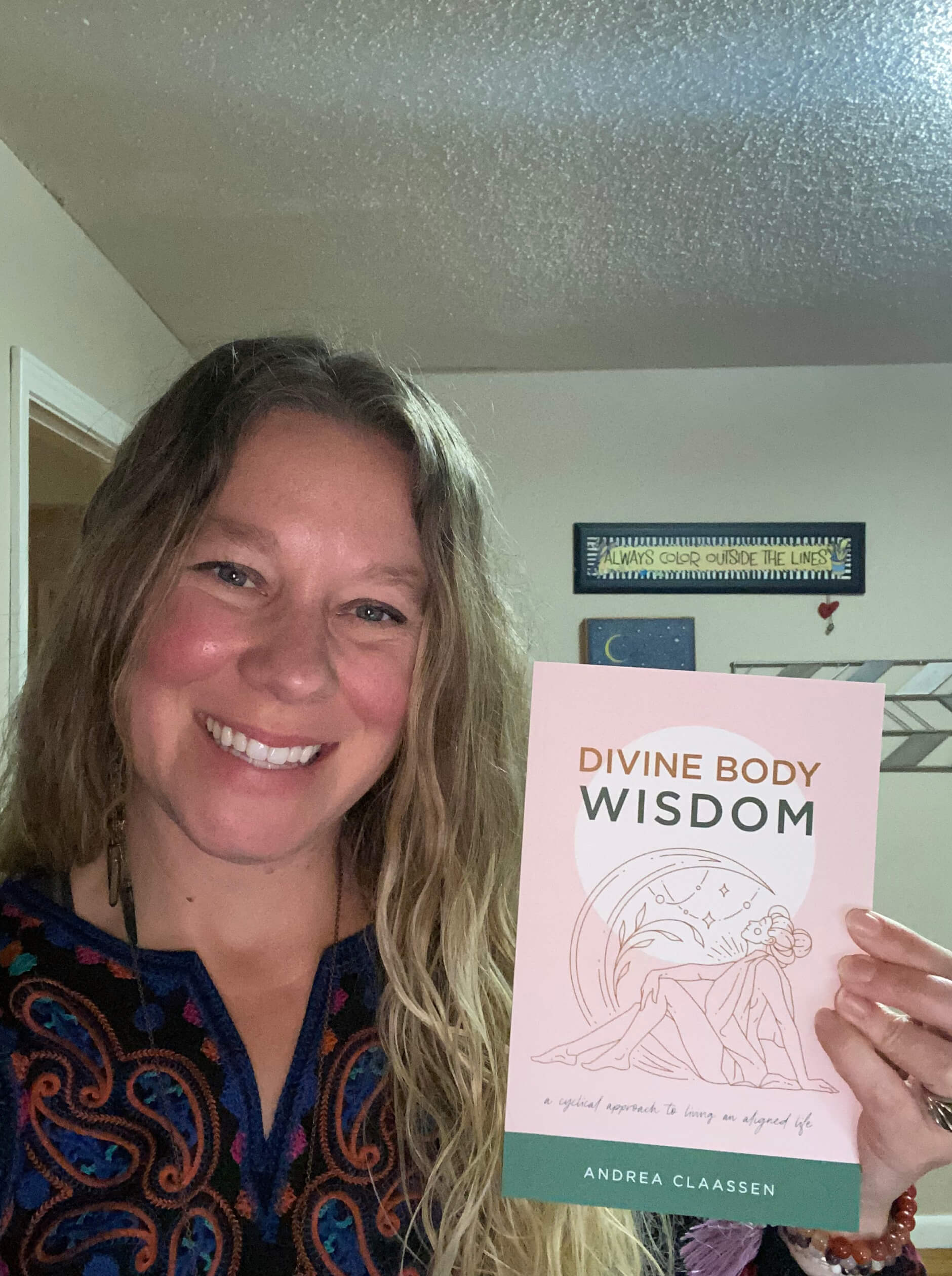 Andrea published her first book, Divine Body Wisdom, in 2021. This gave her another opportunity to follow her passion of teaching, "Even though I'm not in the classroom anymore, I'm a teacher at heart. I love to teach, especially when I can educate people about themselves." Her book allowed her to go more in depth than her social media platforms. It's designed a resource readers can return to as the seasons change. She was especially delighted when she learned that a couple of clients had purchased the book for their teenage daughters. It's provided them with a bridge to be able to talk about the changes their daughters are experiencing. 
One of the greatest obstacles in teaching Ayurveda is demystifying it. "It's a lifestyle change and yet everything can be Ayurveda. In the winter, it's not just soups. A tuna melt can be Ayurvedic. It's a warming food. Ayurveda is a new was to think about life to keep our inside in sync with our surroundings." Working Ayurveda and yoga along with other forms of exercise allows Andrea to customize workout plans that truly fit her clients' lives. 
Andrea is also a big fan of 30 minute workouts. "They used to call me the 30 minute queen at the gym. I really believe in a focused 30 minutes. It doable for moms. 45 minutes can feel too long with all their other demands." 
Andrea's main business focus is one-on-one coaching. She also facilitates a range of courses geared around seasonal living and introspective guidance year round. See the end of this piece for Andrea's description of her upcoming course starting in May. 
When Andrea is not coaching clients, teaching fitness to her beloved senior citizens, or teaching yoga to her husband's basketball students, you might find her enjoying her favorite tuna melt from Yum! Kitchen and Bakery or pineapple fried rice at Coconut Thai. Outside time is a priority for Andrea whether it's walking her dogs in her Saint Paul neighborhood or exploring her favorite area trails. For cozy inside time, she's a huge Hallmark Movie fan. "I have a Hallmark IG account—@hallmarkchannelmovies. Sometimes I get followers who think I am the actual Hallmark channel. It's just a fun space for me to share my Hallmark Movie reviews." 
As the weather begins to warm in the northern hemisphere and spring creeps into Minnesota it's a great time to try Andrea's Cilantro Chutney. It's a long time fan favorite with her clients. Good on nearly anything and easily transportable to an outdoor feast!
Her next special program starts May 2nd—Self-Care With Your Cycle Challenge. The description that follows is from Andrea:
"I just want someone to tell me what to do, I'm exhausted, burnt out and don't have the time to create a self-care plan for myself. That's what many women have been telling me, especially after the last 2 years. I wanted to create a self-care plan that flowed with your menstrual cycle. That's why I created the Self-Care with Your Cycle Challenge taking the guesswork out of self-care. 
Instead of starting the day with a decision of "what should I do today?"Start your day with a clear plan. This program is geared to help you take away the decision fatigue many of us are feeling right now. You can look at your self-care calendar and you know how to make space for you that matches with your menstrual cycle needs. Most self-care programs miss the menstrual cycle as being a guide.
I'm super excited to have a weekly prize (examples: oracle decks, teas, books, and candles) and one overall prize box winner to help hold you accountable to making space for yourself. All you have to do is block 10-20 minutes a day for you! If this is something you feel called to join we start the 4 week challenge May 2nd! The last day to join is April 30th."
Follow Andrea on FB and IG @seasonalandrea. See all available programs on her website: https://andreaclaassen.com
To discover more local makers and growers, follow @meettheminnesotamakers by Michelle M. Sharp. Meet the Minnesota Makers was founded with the purpose of promoting and connecting the innovative makers and growers of the Land of 10,000 Treats. 
Share This Story, Choose Your Platform!