By Michelle M. Sharp, Founder and Content Creator of Meet the Minnesota Makers
Update: In 2023, Thompson Family Farm introduced Farmer's Choice Harvest Bags. Laura describes it as a CSA share without the CSA commitment. Get the freshest
items of the weekly pick to feed those you love! Pick up and delivery are available. Delivery available in Lakeville, Farmington and Northfield. Also in 2023, there will be one on site market per month. Check www.thompsonfamilyfarmmn.com for the current schedule.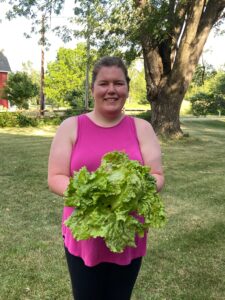 In 2019 Laura Thompson and her husband Michael bought Laura's parents' hobby farm in Farmington. Laura was teaching music
full-time at the time, but was excited to try her hand at a little farming. If you had told her that she was about to embark on a one-woman-led entrepreneurial adventure into farming, canning, and cottage baking, she wouldn't have believed it. The farmstead became her canvas; growing and canning her artistic mediums.

Laura loves hosting the community on her farm at monthly farmers' markets. "My favorite part is building connection with people.
People really value knowing who grew their food," said Laura. "They want to connect to the land more than ever, which is fantastic. I just love building those connections and making people happy."

Thompson Family Farm has been an active farm for over 130 years. "The first parcel of land was about 100 acres square," explained Laura. "The barn was originally built in 1898. The house is at least 120 years old. It's really awesome to be able to be a part of that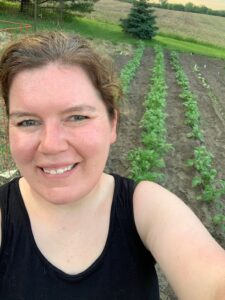 kind of history."


Laura grew up on the farm, learning canning and gardening from her mom. Her parents bought the property in 1987, moving from Saint Paul to raise their family. For her parents, the land served as a hobby farm. "As a kid, I had very few friends who had this kind of life. I realized that not everyone had a garden or a mom who cooked from scratch and canned. I thought it was pretty cool to do things this way."

Thompson Family Farm offers a weekly meal kit that consists of produce and canned goods from Laura's farm and locally raised meat and eggs from New Frontier Farms. Visit https://www.thompsonfamilyfarmmn.com.

Follow @thompsonfamilyfarmmn on Facebook and Instagram for more views of the farm from Laura's childhood and now.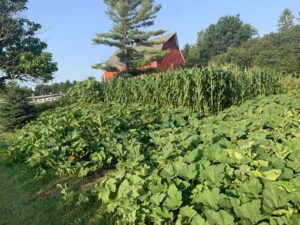 Read the full article at the Sun ThisWeek. 

Follow @meettheminnesotamakers on Facebook and Instagram for more change makers who make Minnesota an amazing place to be!
Share This Story, Choose Your Platform!