By Michelle M. Sharp, Founder and Content Creator of Meet the Minnesota Makers
Wendy Franklin, maker of hand-lettered wooden signs and scroll-sawn wooden decor, began Brave Season Design in 2017 when her kids were a toddler and a baby. She'd just moved to a new home in a new city. Her business name was inspired by this new season of life that was unfolding for her family. In addition, Brave is the meaning of her son's name and Season represents her daughter's.

Wendy taught herself to hand letter and her husband introduced her to power tools. Her greatest surprise came when she realized that, "I could do more than I thought I could—just by saying yes to things that scared me!".

Wendy creates in her Isanti garage workshop. "I have definitely taken over the garage," laughed Wendy. "I am so grateful
for the support I received from other makers when I was starting. It's incredible being inspired by and learning from others," reflected Wendy. "I love supporting other new makers now. We have a thriving community here in Minnesota."

Wendy loves taking custom orders to bring customers' ideas to life. "I have so much fun making decor for my amazing customers! Making something meaningful for them or for them to gift makes my heart so happy."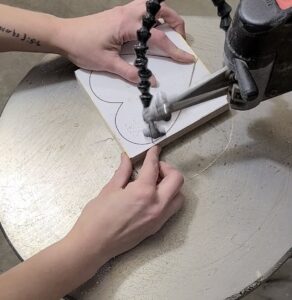 Wendy's wood decor includes elegant book rings (so you'll never lose your place) and sweet hand-scrolled wooden birds (pictured here). Her wood signs are in a range of sizes featuring quotes from Mother Theresa, Audrey Hepburn or pithy promises that the house was clean yesterday.

All designs are original and crafted by hand—from start to finish. Whether a custom design or from her store (braveseasondesign.com), each piece will be unique as she allows the natural wood grain to shine.  

Find Wendy's designs Thistle and Ivory in East Bethel. She will be at their Spring Artisan Market on Saturday, May 21st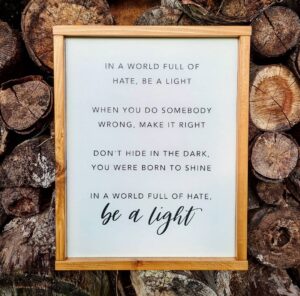 with over 20 local vendors, food trucks, drinks from Garphish Brewing. and live music.  

Follow @braveseasondesign on Facebook and  Instagram to see Wendy in her workshop wielding an impressive array of power tools.
Follow @meettheminnesotamakers on Facebook and Instagram to discover the artists and artisans making Minnesota beautiful!
Share This Story, Choose Your Platform!