By Michelle M. Sharp, Founder and Content Creator of Meet the Minnesota Makers
310,000 books
Since 2018 Debbie Beck and her partners with The Free Book Buggie have placed 310,000 books in the hands of the children throughout the Twin
Cities and the surrounding metro area.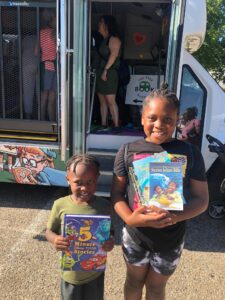 Why? 
"I love being able to have children come and take books. I love to see that I can solve the problem of children who don't have any books at home or maybe just a few," said Debbie. "We had one little boy who came to our table at an event and chose a book. He held it to his chest, hugged it, and told us that this was the fourth book he'd ever had. It broke my heart and yet, I knew that we helped. That day we knew that we helped someone." 
Debbie and her Free Book Buggie are the fourth installment of the MTMM change makers series. Debbie has a passion for connecting people and for sharing stories. Providing children with the nourishment that reading offers propels her to lead her completely volunteer run organization.
Nearly five years ago Debbie was on vacation in Brazil with her daughter relaxing in a park. As they enjoyed the park's vibrant atmosphere, she noticed the energy buzzing around a brightly colored VW bus. The vehicle was surrounded by tables of books. More books were tucked into every nook and cranny of the vehicle. Debbie watched as both children and their caretakers lingered at the tables, talked with the man, and walked away smiling with new books in their arms. 
Ten days after her vacation ended, Debbie filed paperwork with the state of Minnesota to establish The Free Book Buggie. 

Debbie chose the name The Free Book Buggie to confront the two challenges she identified in  bringing books and readers together. "We needed to overcome the challenge of transportation that many families face. They couldn't necessarily come to stores or libraries to get books. We needed the Buggie in our name so people know that we move; we come to them," shared Debbie. "The second challenge is finances. Many of the families we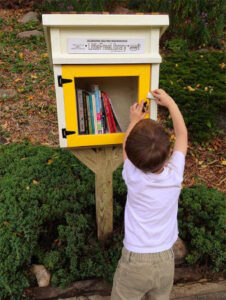 serve are making sure that their children have a warm place to sleep, food on the table, and clothes. Books are not usually a top priority. We had to have the word free so that there wasn't any question about who could access our books." 
Home base for the Free Book Buggie is at Burnsville High School. Every Saturday, volunteers gather to sort donated books and prepare them for distribution at events or through a community partner. 
Old National Bank hosts permanent book drop sites at four locations (Blaine, Eden Prairie, West St. Paul and Woodbury) to make it more convenient for people to donate new and gently used books. Sliding through recent posts on social media shows book drives at Eastview High School, the Grand Avenue UPS Store, and the Maple Grove Barnes & Noble. 
Debbie always seeks new homes for The Free Book Buggie including permanent sites where neighbors need the Buggie most. "The goal is be more embedded in a community where we can be known. We'll have office hours staffed by volunteers ideally in a space like a church where the community can visit us as individuals rather than waiting for a special event." 
The Free Book Buggie is excited to share the news about its new satellite location in Rochester at Sunset Terrace Elementary School. This new spot makes it easier for the Buggie to share books with readers throughout southern Minnesota. 
The Buggie itself is a treasure trove on wheels. "I wanted to have something that reminded children of an ice cream truck. I wanted to drive down the street and have people think, 'Oh good! Here comes The Free Book Buggie!'" Debbie's eyes shone as she described watching children's faces when they enter the Buggie to explore the available books.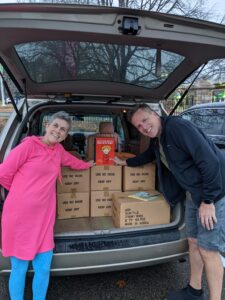 As The Free Book Buggie, grows their greatest needs are financial donations to keep the Buggie booking it through neighborhoods, and partnerships that connect them to children. The Free Book Buggie depends on donations from book drives, authors, publishers, and area businesses to keep their shelves stocked with everything from picture books to young adult chapter books. There is a great need for books written in languages other than English, especially Hmong, Somali, and Spanish. 
Learn more about the story of the Free Book Buggie in a children's book that's a celebration of local talent. Local children's author Jen Teschendorf wrote the book, local illustrator Kevin Cannon illustrated the book and local publisher Allison Mann with Hadleigh House published the book. The children's book is available  in Dyslexic font. When you purchase your own copy on the Free Book Buggie website one hundred percent of the proceeds go to support their literacy mission. 
The Free Book Buggie invites you to volunteer your time both in book sorting and at community events. "The more drivers we have, the more events we can cover," explained Debbie. "Right now we can only have one event with the Buggie at a time. With more volunteers, we can spread our wings and cover more of the Twin Cities. I would love to serve more children and move the books from our storage room into the communities where they're needed most."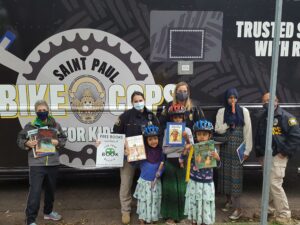 Debbie first organized a book drive as a part of "I Love to Read" month at her children's school when they were young. She never imagined, even after earning her Master in Public and Nonprofit Administration, that she would found and direct her own nonprofit. Now, as Debbie said, "We're an open book and we're bookin' it." The Free Book Buggie is literally on the road looking to connect children with the stories that will inspire them. 
Visit https://thefreebookbuggie.org/ to learn more about their mission of "Giving Books, Cultivating Minds" and get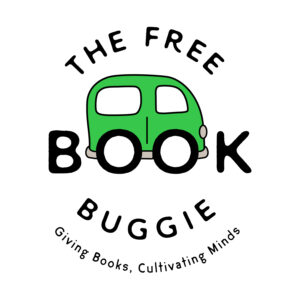 involved. 
Follow @freebookbuggie on Facebook and Instagram to learn about current events. 
Follow @meettheminnesotamakers on Facebook and Instagram to meet more area change makers making Minnesota an amazing place to be!
Share This Story, Choose Your Platform!