By Michelle M. Sharp, Founder and Content Creator of Meet the Minnesota Makers
Nuanced: Having or characterized by subtle and often appealingly complex qualities, aspects or distinctions. This definition drives Nuanced Hot Sauce's mission of using real ingredients to achieve the perfect balance of heat and flavor.

Best friends Alex Harker and Taylor Soukup have a shared passion for spicy food, especially hot sauce. Like Goldilocks, they couldn't find one that was just right. Everything was too mild, too heavily flavored or hot just to be hot.


The search for the ideal hot sauce inspired them to create their own in Alex's Crystal, MN kitchen. "We decided to take a day to try to make our own sauce that had the perfect balance of heat and flavor," Alex shared. "That day turned into two years of making our flagship sauce."

Demand for their original sauce of habanero, Carolina reaper, and bell peppers with hints of tomato and ginger grew steadily among family and friends. In August 2021 Alex and Taylor completed the process to become certified cottage food producers and launched their website www.nuancedhotsauce.com soon after.

The second sauce, known as "The Green," entered into production in November. This lively sauce features jalapeño, Serrano,
and Carolina reaper peppers along with cilantro and celery. Both sauces are available on their website. More sauces are in the testing phase. Nuanced Hot Sauce will be at the Crystal Farmers Market in Becker Park on Tuesdays starting in June.

Their favorite part of the business is working together on something fun. "We make Hot Sauce because we love it. We are excited about the direction things are headed," shared Alex. "We are having a blast making something we are passionate about."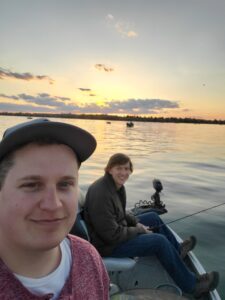 Being part of the maker community is such a positive experience. "The level of support and encouragement for our new business has been amazing. Every nice comment, review, or bit of advice means the world to us. We love that there are so many people who enjoy providing products that they are passionate about to the community."  

Follow @nuancedhotsauce on Facebook and Instagram for the perfect balance of flavor and heat.
Follow @meettheminnesotamakers on Facebook and Instagram discover more local change makers who make Minnesota an amazing place to be!
Share This Story, Choose Your Platform!