By Michelle M. Sharp, Founder and Content Creator of Meet the Minnesota Makers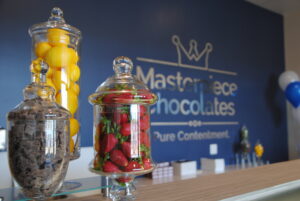 A former auto parts store off Kenwood Drive in Lakeville is now an oasis for hand-crafted truffles made with locally-sourced ingredients from owners Dale and Linda Lokkesmoe's extensive garden as well as local farmers markets. The enticing smell of chocolate and a vibrant blue mural that pays homage to the cacao plant and its essential bean greet Masterpiece Chocolate's visitors. The brightly lit display case features 18 different flavor experiences, each with the goal of "Pure Contentment," as printed on their boxes.
Dale and Linda's truffles are a balanced marriage of Dale's creativity and Linda's analytical strengths. Their truffles are "beautiful to look at and wonderful to eat.
We want to promote our vision of slowing down, to savor the little moments. We want to provide some contentment and allow people to pursue more contentment in their lives."
Dale likes to build and improvise systems and has a background in chemistry. Linda is passionate about chocolate, and had dabbled in chocolate making for a decade. Together in early 2021 they entered an international chocolate training program. This course was tremendously useful in preparing them for this new venture.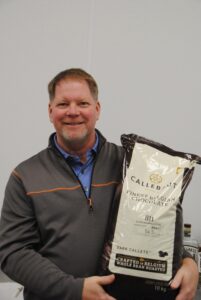 "We learned the history of chocolate, how to make chocolate, varieties of chocolate, how to treat and temper it, how to preserve it, and how eventually how to set up a shop," Dale said. "We had daily homework assignments about making chocolate. It was fun and informative. It was thrilling to realize that we were good at making chocolate."
Each of their nut-free chocolates is an original recipe developed by Dale and Linda. They have also developed a dairy-free dark chocolate so that even more people can share in their artisan goodies.
Dale shared that using fresh ingredients was especially important to them. Their customers recognize the freshness, as demonstrated by their best-selling Raspberry Dark Chocolate truffle.
Masterpiece Chocolate's current store hours are Thursday-Saturday from 12-5 p.m. They'll celebrate their second anniversary the weekend of October 13-14, 2023 Noon-5PM with free samples, discounts, and other fun stuff at their store.
Visit them in store at 17697 Kenwood Trail in Lakeville or online at masterpiecechocolates.com. Follow them on Facebook and Instagram @masterpiecechocolates.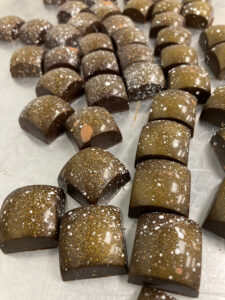 Read the full article at the Sun ThisWeek. 

Follow @masterpiecechocolates on Facebook and Instagram for seasonal menu items and behind-the-scenes glimpses into their on-site commercial kitchen.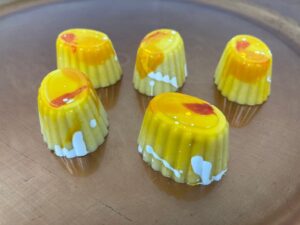 Follow @meettheminnesotamakers on Facebook and Instagram for more people who make Minnesota a tasty place to be!
Share This Story, Choose Your Platform!