By Michelle M. Sharp, Founder and Content Creator of Meet the Minnesota Makers
I never knew that walking into the bathroom could make me smile this much.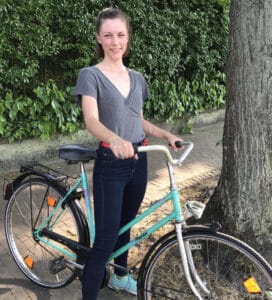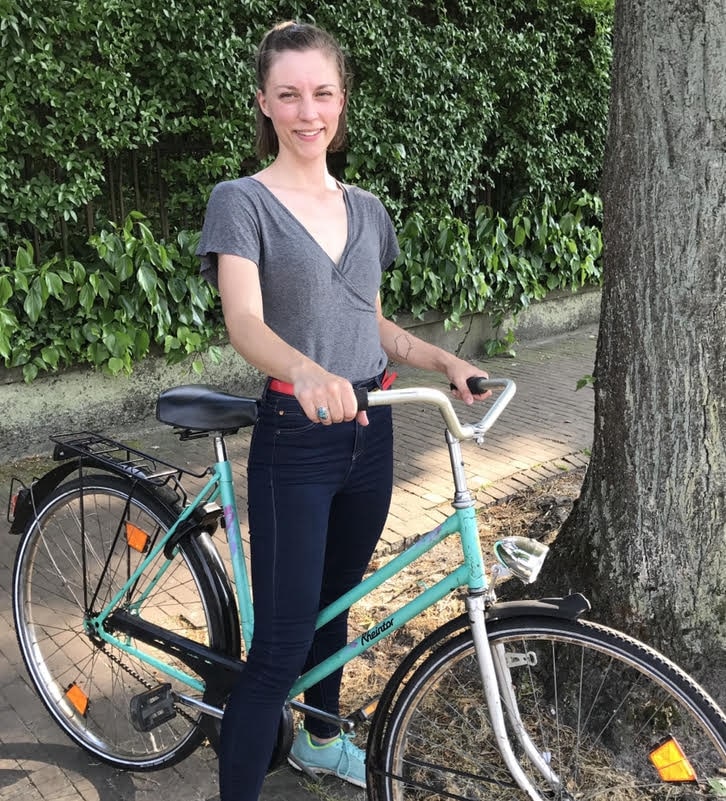 Long-time MTMM followers met Rachele Krivichi last year. Rachele promotes outdoor advocacy through her collages, painting, digital drawing, writing, photography, and now interior decorating services.
Rachele brings her artistic vision to your home decor as an interior artist. "As an interior artist I work with what's already in your home to spruce it up and give it new life. It's a little different than the work of an interior designer," explained Rachele. 
Expanding her artistic vision into an intentional shaping of interior spaces proved to be an intuitive offshoot of Rachele's established artistic mission. "Interior decorating might seem like the antithesis of my other work, which focuses on outdoor exploration, but I don't see it that way," explained Rachele. "I always stick to my gold standard of using recycled objects or materials whenever I can, creating a natural or organic feel, and working with whatever is already in the home. In that way, I stick to my environmentalist values even when working in a realm that can feel pretty un-environmentalist."
Rachele took on our very boring first-floor bathroom as a design challenge. I didn't like the space as it was, and didn't know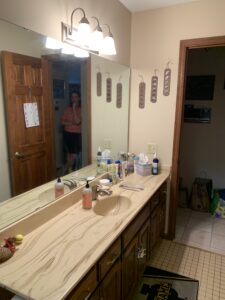 where to start. This was the perfect project for Rachele. "When I bought my condo in 2020 I realized I had tons of ideas and a knack for decorating," shared Rachele. "An empty condo kind of felt like an empty canvas in a way, and now I think of all my interiors projects as big, blank, empty canvases." 
Rachele noted color and design patterns in other rooms of our house, asked about our priorities and discussed budget. All the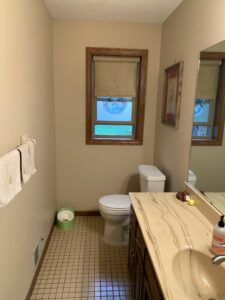 sample designs that she sent us were major upgrades to the existing space.
Rachele created the stunning sunburst collage that fills the open wall. It echoes a signature design element on our home's exterior. The piece is an upcycled labor of artistic creativity with scores of diamonds cut from magazines pieced together to bring the vivid sunburst to life. I notice something new every time I look at it.  
Rachele incorporated ceramic leaf reliefs that we bought at the Eagan Art House, a soap dish from a local art fair, and a beloved mallard decoy from a Chincoteague trip with my parents years ago. With her eye for color and artistic storytelling, these items now feel intentional. 
Many of the finishing touches were thrifted finds that Rachele collected. The countertop towel rack was Rachele's solution to the ongoing challenge of my kids' damp towel lumps that typically graced the counter. That was among the Target finds that balanced the investments in the shelf ladder from Blackberry Woodshop and the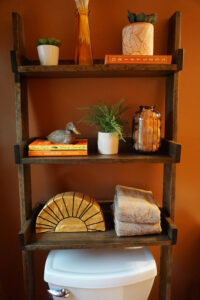 custom sunburst by Rachele Krivichi Art.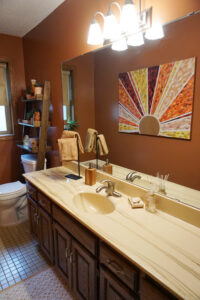 The whole family enjoyed watching the transformation of this utilitarian space. I am so excited about this stunning after in our home. 
Rachele was easy to work with throughout the design process. She was open to everyone's input and really listened to my kids' needs for the space as well. Her creative suggestions guided up to a beautifully finished room that is still user-friendly for our family. 
Our only regret was that our project did not complete one of Rachele's major goals in interior artistry. "I'd like to design a custom wallpaper or fabric someday," said Rachele. "I would love to create a truly one-of-a-kind design element for someone's home." 
Will that someone be you?
Visit https://rachelekrivichiart.com/ to see more of Rachele's designs. 
Contact [email protected] to start the consultation process. 
Follow @rachelekrivichiart on Instagram to see Rachele's current design projects. 
Follow @meettheminnesotamakers on Facebook and Instagram to discover the change makers bringing out the best in Minnesota!
Share This Story, Choose Your Platform!