By Michelle M. Sharp, Founder and Content Creator of Meet the Minnesota Makers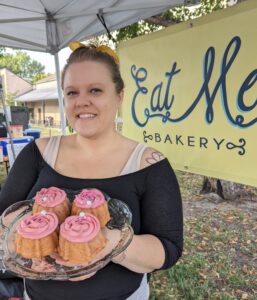 Kelsey Endres, owner and creative force of Eat Me Bakery in Minneapolis, explains how enjoying food should always be an event. "Food is special. It is fun. It doesn't have to just be fuel," shared Kelsey. "I like to play with flavors. I like the surprise of eating food that someone else prepared."  
Embracing a healthy relationship with food was something that Kelsey learned. "I was taught to be afraid of food, to see it as something that had to be limited. Many of us who grew up in the 1980s, 1990s, and early 2000s were subjected to an intense diet culture," shared Kelsey. "I assumed that everyone was always on a diet."
In her twenties, Kelsey discovered that food could be a tool of enjoyment rather than guilt. It could bring people together. It could embrace rich cultural traditions (like her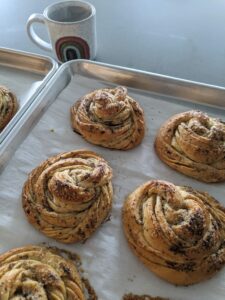 signature cardamom buns). It could surprise people and make them happy. 
The joy of baking and sharing food made her want to open a bakery. "I thought it was such a romantic idea. How cool would it be to be able to prepare food for other people every day?" explained Kelsey. "However, there was this voice in my head that always said, 'But who will eat that kind of food?'"
The answer? "It turns out that everyone wants to eat that kind of food," affirmed Kelsey. "When we let ourselves eat food and don't restrict it, we don't over indulge. We don't eat until we're sick. I let myself eat whatever I want. I am very aware of how the food feels in my body. If it doesn't feel good, I'm not going to do it. I'm not going to beat myself up over it, but now I know. Maybe don't go that far with the chocolate cake next time."
Food as a healthy means of connection with Eat Me Bakery brings us to the grand finale of the summer 2023 MTMM local food series. 
Kelsey uses her bakery, her Tiny Ass Kitchen blog, and her social media platforms as a refuge for body positivity. "When I get comments about how my treats must be sugar and calorie free I always respond, 'Nope.' It's full of butter and sugar and it tastes really good," stated Kelsey. "I will say that if you want to save this for tomorrow because you're full right now, that's okay. You don't have to get this if you don't want to. I don't want it to make you feel bad. There's no pressure to get anything."
Eat Me Bakery started in 2019. "I love the name of my bakery. I think it's so funny," laughed Kelsey. "You can take it so many ways. It can be an Alice in Wonderland reference. It can be very literal. It can also be sassy and a bit abrasive." 
The other sassy players in Kelsey's bakery are her cats. "The cats are a nuisance. "I have to corral them into another room when I bake," smiled Kelsey. After Kelsey has finished baking for the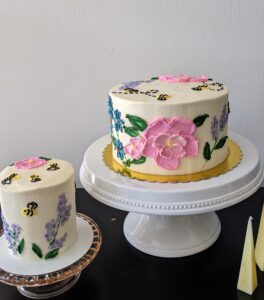 day, "There's noting cozier than a coffee and a pastry with a cat on my lap and a good book in my hand. There's just something cozy about cats and bakeries." 
Kelsey made Eat Me Bakery her full-time mission in 2023. While searching for her Minneapolis storefront home, she participates at the Kingfield, Northeast, and Nokomis Farmers Markets on a weekly basis. Kelsey also takes on as many special orders for her buns, bundts, and decorated cakes as she can. 
To further prepare for her vision of the platonically ideal bakery, Kelsey bakes part time at Honey & Rye. "I love working at Honey & Rye!" gushed Kelsey. "The owner Anne has been so kind and encouraging. She is willing to answer a ton of questions about owning a bakery. I work with her everyday in the kitchen and she's so open to talking about it. I've learned so much."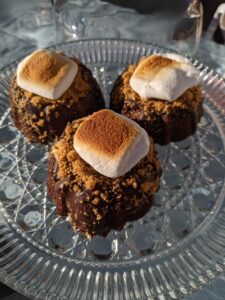 Whether preparing basil bundts, pesto buns, s'mores cookies or layered cakes, Kelsey most loves the human connections shared through food. "When people wonder what's the meaning of life? It's connection. Nothing makes me happier than watching someone process that first bite of something," mused Kelsey. "I've had so many people tell me that the cardamom buns remind me of their moms or their grandmas. It makes me happy that something I made can remind them of their family in a positive way."
Visit eatmebakerympls.com for menu and pricing. Fall flavors return this week. Pumpkin spice and apple cider mini bundts are among the flavors returning to Kelsey's weekly menu rotation. 
Follow @eatmebakerympls on Facebook and Instagram for reminders to just eat the cake, meet sassy cats and, enjoy tempting buns.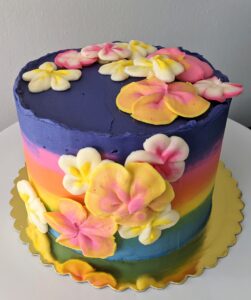 Follow @meettheminnesotamakers on Facebook and Instagram to discover more of the people who make Minnesota a tasty place to be!
Share This Story, Choose Your Platform!