Kelli Kaufer and Mina Carlson of Stillwater's Smith+Trade Mercantile and the new Smith+Trade Collaborative exude an infectious energy. Their Stillwater roots and passion for healthy local communities run deep. 
Both Kelli and Mina have lived in Stillwater for over 20 years. Stillwater became their forever home after living throughout the United States. They are art lovers and energetic DIYers. They are problem solvers. When they noticed an increase in empty storefronts in their beloved Stillwater, they became part of the solution. "I remember walking down Main Street about seven years ago," shared Mina. "I remember thinking that something had to change. What could we do differently?" 
While the COVID pandemic initially was a scary blow to their business, it also allowed for a period of reflection. "Supporting local had an urgency that it hadn't before. Minnesota Made became more important," explained Kelli. "People are really aware of what they're buying and where it's from. Consumers are making more of an effort to see where things are made."
In the airy loft office of Smith+Trade Mercantile, we talked about community and what supporting local means to them. Kelli and Mina are part of the local maker puzzle for the long haul. 
Kelli Kaufer founded Smith+Trade Mercantile in the spring of 2019. Having built a thriving interior design business with scores of contributions to HGTV and DIY networks, Kelli sought to establish a community oasis for local designers and craftspeople. Every item for sale in Smith+Trade has been crafted locally, with contributions by dozens of unique artisans. The curated collection of items for sale ranges from organic pancake mix to kinetic sand tables. Handcrafted stationery collections, leather goods, acrylic paintings, and self-care products are among the multitude of options in between. 
Kelli and her husband Paul moved the store to its current location at 229 Main Street South in downtown Stillwater in 2021. They completed the buildouts themselves including the striking Shou Sugi Ban wall near the store entrance. This welcoming space showcases the work of over 120 different artisans from Minnesota. The store beckons shoppers to tour the possibilities of what local artisans can create."We love reading the comments in our guest book. Our visitors love this space and are often surprised by what they're able to get here," shared Mina. "Often they find something that they've never seen anywhere else before. We love that."
Mina Carlson was an enthusiastic supporter of the store from its inception. A frequent customer, she and Kelli became friends. "I realized immediately that this place was something different," explained Mina. "Being a local businesswoman myself, I always want new area enterprises to succeed. I was telling everyone about this new community highlight." During a fateful visit to the store, Mina and Kelli discussed possible store expansion. This conversation led to Mina joining Kelli as a partner focused on store operations and growth.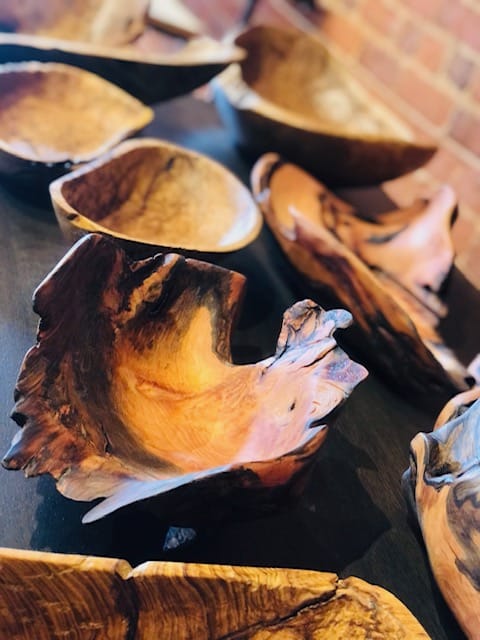 If you've visited Smith+Trade this summer, you may have noticed the active work on the storefront next door. The Smith+Trade Collaborative opened this past weekend to reveal a unique space that celebrates locally made with deep reverence. "There isn't anything like this anywhere else in the United States right now," explained Mina. Kelli elaborated, "The artisans that we've been meeting with have been stunned." 
What has local artisans speechless? The Collaborative brings to life Kelli and Mina's dream of cultivating an accessible space that celebrates local design. "When you walk in, your eye will be pleased. This space is not manufactured and you can tell right away," explained Mina. This is a new group of artisans for Smith+Trade—cabinet makers, glass blowers, rug weavers, wood workers who make tables and bed frames.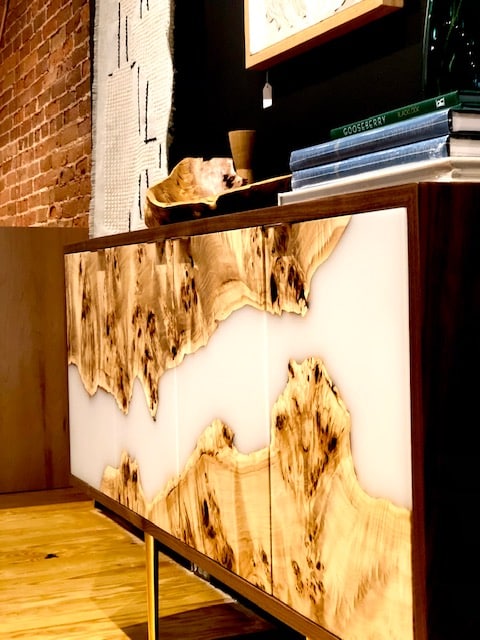 The space is subdivided into rooms. "When you walk in there will be a full bedroom. From floor to ceiling—the bed frame to the linens to the pillows to the light fixtures—everything is Minnesota made," Kelli stated. "The cabinets are different. They're fresh. I get goose pimples!" Mina replied, "I do too! Both of us have always dreamt of doing something like this."
Smith+Trade Collaborative combines Kelli's gift for design with Mina's experience in development and building homes. They get to mash it up to create an amazing resource. Forget your big box hardware and design stores. Smith+Trade Collaborative will provide you the talent on every level of the process to create a unique, locally-made space for your home or office.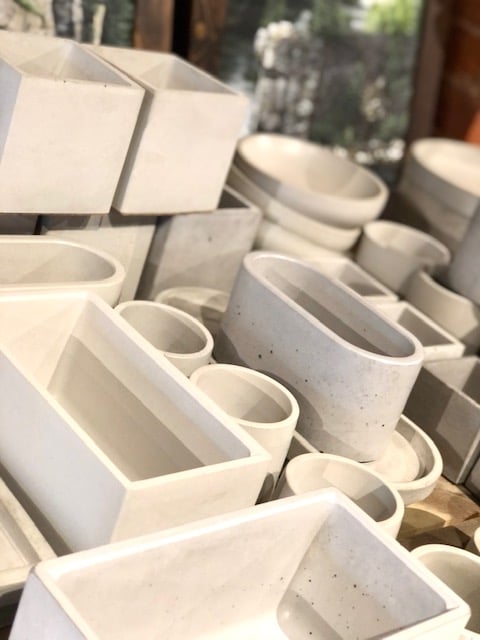 The Collaborative addresses one of the greatest challenges for people who want to support local—the time limit in consulting with multiple sources. Decision fatigue, when it comes to design and construction, can be a real factor. Kelli and Mina have done the legwork of bringing local makers together in a showroom so that each customer can see how the whole package comes together. Kelli summed up the vision of the new Collaborative elegantly, "It's purposeful. We want to show how one artisan's work compliments that of another artisan. You can pull it all together in your home and office spaces."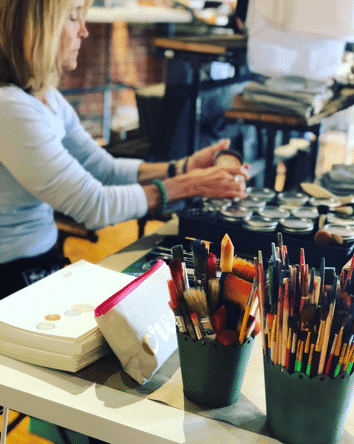 When Kelli and Mina aren't in either of their storefronts, you'll find them collaborating with local high school trade programs or organizing art programs with Gateway Trailside & Smith through Gather and Grace. Visit https://smithandtrade.com for event calendars and artisan pop-ups. 
Follow @smith_and_trade_mercantile and @smith_trade_collaborative on Instagram and Facebook to be the first to know what's new in store. 
Follow @meettheminnesotamakers on Instagram and Facebook to discover the makers who make Minnesota an amazing place to live!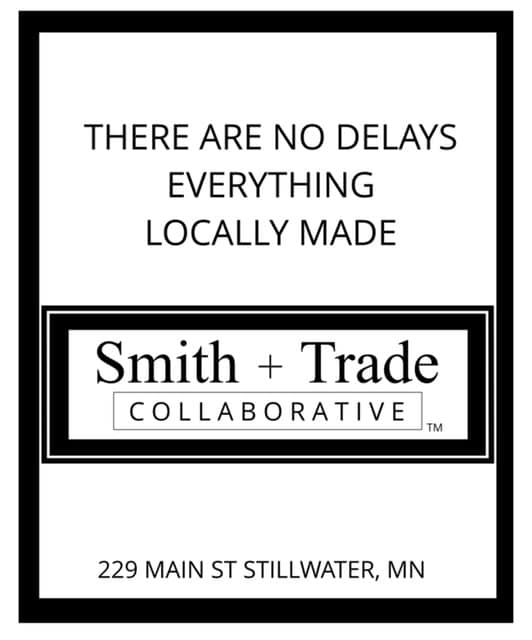 Share This Story, Choose Your Platform!