By Michelle M. Sharp, Founder and Content Creator of Meet the Minnesota Makers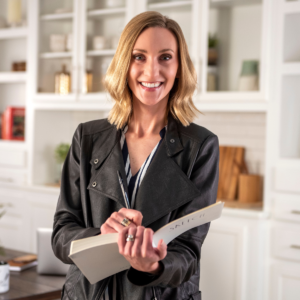 Heather Boschke of Buddha Birdie captures the vibrant personalities of local and exotic birds in her pen and marker drawings. These drawings come to life in the form of cards, prints and mugs. Heather combines artistry and whimsy in her colorful creations. Each of the birds in her ever-growing avian gallery has a name to further evoke its unique characteristics.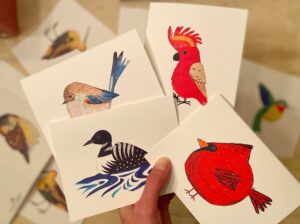 Heather shared a card of her sweet Betty the Black-Capped Chickadee with me. These birds are frequent visitors at our backyard feeder. Heather's drawing evokes the inquisitive nature that I've always imagined these swift local birds to have. It looks like its feathers are a little puffed up to protect it from the Minnesota winter.
Buddha Birdie started as a pandemic creative outlet, "I've always loved birds – perhaps stemming from the nickname 'Heather Feather' that my grandpa gave me early on. I often go birding in the incredible parks around Bloomington and Richfield for inspiration as well as to connect to the beauty of nature. There is something so magical about those beautiful creatures that get to occupy the space between the trees and the sky. Drawing birds is a source of flow and zen, bringing me back to the simple joy of creating art that I loved as a kid".
Each "Buddha Birdie" is intended to evoke a positive emotion. They capture a playful spirit that Heather hopes makes people smile. This project is a profound source of happiness and joy for Heather that she wants to share.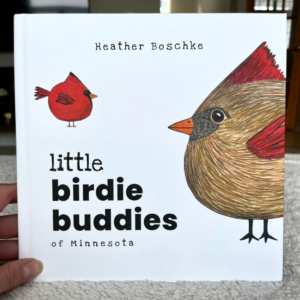 Meet the whole bird family at https://www.buddhabirdie.com. Individual cards are for sale at Vendella Coffee Haus  and Curiosity Minneapolis.
Heather also accepts commissions. She enjoys bringing something special to life that will evoke a happy memory, a loved one or perhaps a spirit bird. Custom illustrations typically take 10-12 days. Contact her at [email protected].
With characters like Lucy the Loon, Chloe the Cockatoo, Remi the Wren, Clarence the Cardinal, and Quinn the Quetzal, it felt natural for Heather to bring her birdies to life in her new book series. Little Birdie Buddies of Minnesota shares the stories of these feathered friends.
Shop well. Shop local!
Follow @buddabirdie on Facebook and Instagram for Heather's feeder visitors and book signing events.
Follow @meettheminnesotamakers on Facebook and Instagram to discover more of the people who make Minnesota a tasty place to be!
Share This Story, Choose Your Platform!