Kathryn first made granola as a barista at the former Coffee News Cafe in Saint Paul. The cafe had a standard recipe as its base while allowing its employees to put their own twists on each batch. Kathryn reflected, "I liked experimenting with coffee flavors—like caramel or mocha—and playing with them. It's how I learned to make traditional granola." 
With this experience as a foundation, Kathryn was ready when a friend asked her years later about making a low-carb breakfast cereal. She thought she would eliminate the oats and focus on nuts and seeds that have a higher protein content. "I took all the spices I had in my cupboard and went to the store and got a bunch of nuts and seeds and put them all together. She was my first tester. She really liked it." Rave reviews from friends along with their encouragement that Kathryn should sell her granola made her begin to consider this new path. 
It wasn't until a trip to Uganda where Kathryn saw people her age thriving as entrepreneurs making something out of seemingly nothing that she realized that there wasn't anything stopping her from being a small business owner herself. Upon returning from this trip, she committed to giving grain-free granola development a formal try. 
Like many food-based small businesses, Coco, Bee & Nut started as a cottage food producer with stands at local famers' markets. Kathryn got her start at the Maple Grove and Northeast Minneapolis markets. This gave her a chance to directly interact with potential and returning customers, modifying her recipes based on their feedback.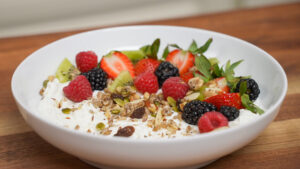 Her big break materialized in the form of a high school peer who worked at Kowalski's Market in Excelsior. "Kowalski's was the one—they said yes! Kowalski's is really great because if you are local you have way more of a foot in the door. When I saw the shelf full of the buyer's rejected samples it really put the moment into perspective for me. I was amazed by their support of local products. I felt like I was hardly anything at that point and yet they were willing to give me a chance. Together we would see where my product could go." 
This opportunity required major operational changes for her granola production. In order to be carried in a grocery store, your product has to be produced in a commercial kitchen. Kathryn also applied for a food producer's license, upgraded her packaging from coffee bags, developed nutrition labels and began doing in-store demos. A family operation, Kathryn enjoyed tremendous moral and operational support from her parents at every step in the process. Her Dad especially thrived in the role of salesman at the in-store demos first at Kowalski's and later at Lund's and Byerly's. 
"We're given a finite amount of time in this world. I'm trying to do things that make me feel alive."–Kathryn Nelson
Kathryn's favorite part of owning the business is recipe development. Coco, Bee & Nut's best seller is Blueberry Lemon, which enjoyed its debut as a seasonal treat this past year in a white chocolate bark. This granola is "a labor of love." The rich lemony flavor comes from whole lemon, which she slices, dries and powders herself. Using the whole lemon reduces waste and harnesses the cancer-fighting power of this dynamic citrus.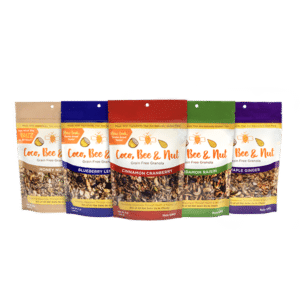 Still a granola fan six years and hundreds of batches since starting her business, Kathryn enjoys hers with yogurt, in a bowl of soy milk, mixed into biscotti or as a topping on banana bread. Her favorite flavor is Cardamon Raisin. Its inspiration may surprise you, "I had learned to make the Indian tea cake called soji that has lots of cardamom, raisins, and butter in it." 
Maple Ginger was a way to make her granola vegan and Honey Nut came along for those who were looking for a simpler flavor palate. Coco, Bee & Nut sources its seeds and nuts from Bergin Fruit and Nuts.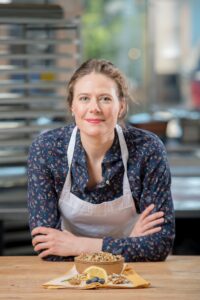 Ten percent of Coco, Bee & Nuts's net sales are donated to charity. The Ugandan family that Kathryn has supported the past several years has reached a sustainable space for themselves. Kathryn is looking for a new non-for-profit, ideally one here in Minnesota, to partner with moving forward. 
When she's not running Coco, Bee & Nut, Kathryn is exploring a new venture as a voiceover artist. She recently completed the recording of her first audio book titled Charlie's Ark by Karina McRoberts. Kathryn was formerly a vocalist for a jazz combo group. She's really excited about this new way of using her voice. Returning to the idea of seizing seemingly random opportunities, she noticed a listing for a voiceover class in a community ed catalog at the beginning of 2021. Her motivation is simple, "We're given a finite amount of time in this world. I'm trying to do things that make me feel alive. This new venture definitely does. I love using my voice." 
To discover more makers and growers of Minnesota, follow @meettheminnesotamakers on Facebook and Instagram.
Share This Story, Choose Your Platform!