By Michelle M. Sharp, Founder and Content Creator of Meet the Minnesota Makers
Alyssa Whetstone started her business Created Anew 210 during her senior year of high school. Her first art fair was Excelsior Art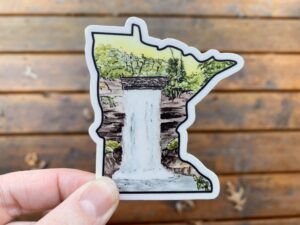 on the Lake, "Meeting the other creative people selling around me was so inspiring." She soon set up an Etsy shop where you can purchase her digital downloads as well.
Alyssa specializes in vivid ink drawings and water colors. In addition to prints, her designs are also available as brightly colored stickers, stationery, and magnets. 

Alyssa is an elementary school art teacher in Lakeville who will soon return to grad school to pursue her masters degree in art education. Alyssa loves the balance of teaching and creating art. "I get to be creative and teach others how to be creative too." shared Alyssa. "I am finding myself wishing more and more that I had more time to create and to build my brand and business. I don't know if I'll ever choose art-making as my full time gig, but I've surprised myself lately by even considering it!"
Her joy in teaching is clear from the videos she shares on social media encouraging others to embrace their supposed mistakes in art. Her step-by-step instructions
empower her followers to create their own masterpieces. 
From her Eagan studio, Alyssa studies Minnesota plants, landmarks, and architecture. She  brings them to life in her artwork. "When I paint I have to look at something so carefully, really understand it in order to render it realistically. I can tell other artists about this and they nod and smile along," reflected Alyssa. "Even if they create abstract works or make jewelry, their brain is wired to see things differently. Like me!"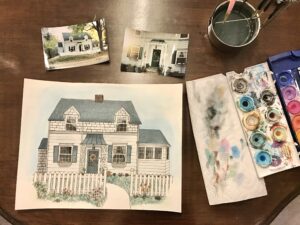 Alyssa especially enjoys the challenge of custom requests. "I love seeing, looking, and then transforming someone's vision into a painting. Whether that's a cool place you traveled to, or your childhood home, I love doing custom paintings of locations that are meaningful to my customers."

Follow @alyssawhetstoneart on Instagram for Alyssa's art adventures through Reels and Stories.
Follow @meettheminnesotamakers on Facebook and Instagram to discover the change makers bringing out the best in Minnesota!
Share This Story, Choose Your Platform!