By Michelle M. Sharp, Founder and Content Creator of Meet the Minnesota Makers
Pauline Reller of Farmington's Paulie's Studio shapes glass into eye-catching designs. Pauline creates dishes, jewelry, magnets, and wall hangings.

Pauline discovered her passion in a Glass Fusing course at Normandale Community College. This art form engages all her senses. "I fell in love with the sound of scoring and cutting glass as well as its beauty when completed," Pauline shared. "I am still mesmerized by the dimension in glass and the colors it has to offer."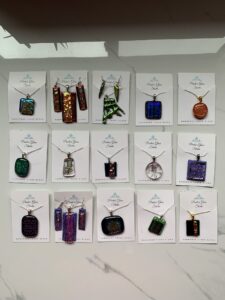 Glass is flexible and sturdy. Pauline highlighted the well-tested durability of her magnets, "The magnets are very strong and difficult to knock off of the refrigerator. My son has been testing this for years—no mishaps yet."
All her pieces are food safe. They're durable enough for daily use and pretty enough to always feel special. "Fused glass dishes are great for décor in your kitchen, dining room, entryway, bathroom and more. The jewelry is very bright and compliments any outfit with the many color variations in the pieces."

Creating art that is both practical and luxurious energizes Pauline. She loves planning customers' commissions. "I include my customers in the design process. Their ideas push me out of my comfort zone. I love making pieces that they will love and use everyday."
Having the kiln in her own home turned this beloved hobby into a growing side business that can involve her young son. "I teach him how to safely cut glass. Something about cutting glass is relaxing for both of us," shared Pauline.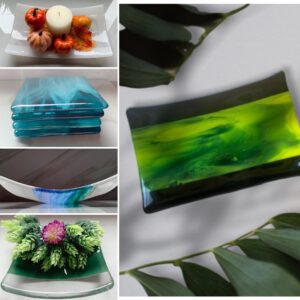 Pauline is grateful to have the support of her creative family. Her mom quilts, her dad draws, one grandmother crochets and the other sewed
clothes for Pauline when she was a child. Her uncle, a woodworker, loves coming to her studio to watch her in action. In addition to his artistic knowledge, "My dad is my salesman. He's a truck driver. When he went cross country he would take my jewelry with him and sell pieces to people he met along his route."

Visit Pauline in person select Saturdays at the Northfield Riverwalk Market. She'll make her Eagan Art Fair debut in 2023.
Browse current collections and examples of past commissions at https://www.pauliesstudio.com/


Follow @PauliesStudio on Instagram to see commissions in progress.
Follow @meettheminnesotamakers on Facebook and Instagram to discover the local makers who make Minnesota amazing!
Full article originally published in the Sun ThisWeek on Oct 7, 2022 "Meet the Minnesota Makers: Land of 10,000 Treats" 
Share This Story, Choose Your Platform!