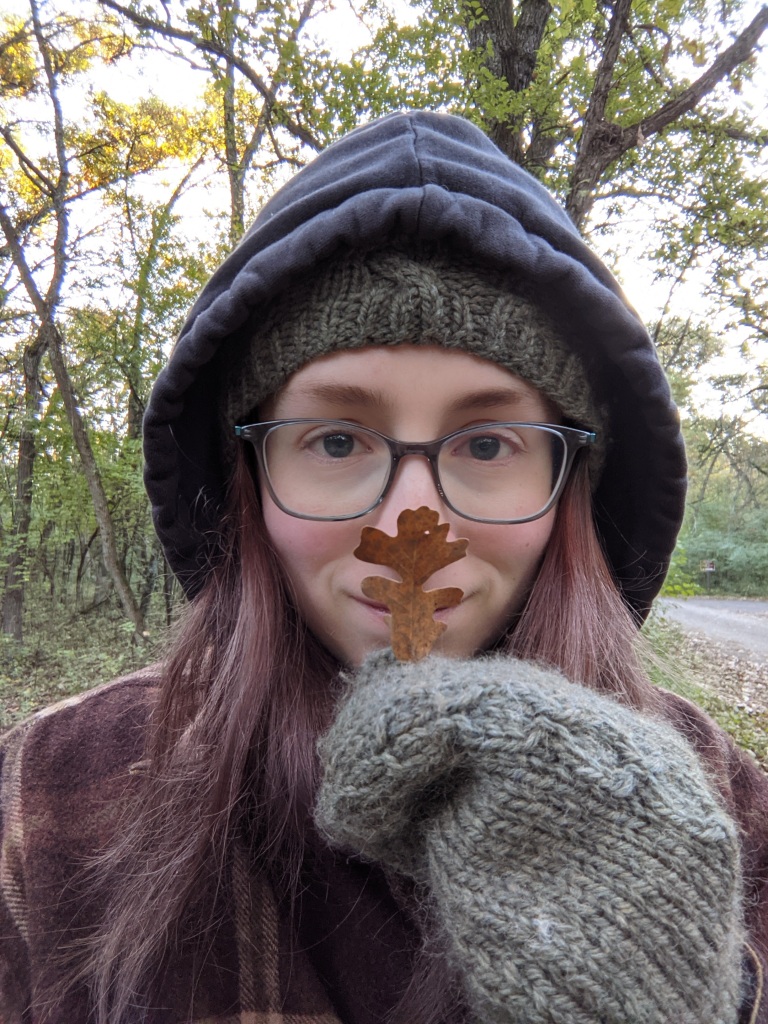 Mattie Ernst of Earnest Threads uses a bit of magic to allow nature to literally leave its mark on vibrant silk scarves, wool felt earrings, wool coasters and cozies, and art prints. Botanical printing is an art form that uses plant and insect materials to dye fabric. "Botanical printing is a contact printing with flowers, bark, onion skins and more," explained Mattie. "You layer leaves and fabric together, roll them tightly, and steam it so that the pressure, heat, and the moisture release the tannins, acids, and pigments present in the leaf." Depending on how the fabric has been treated, it will leave an imprint of one kind or another.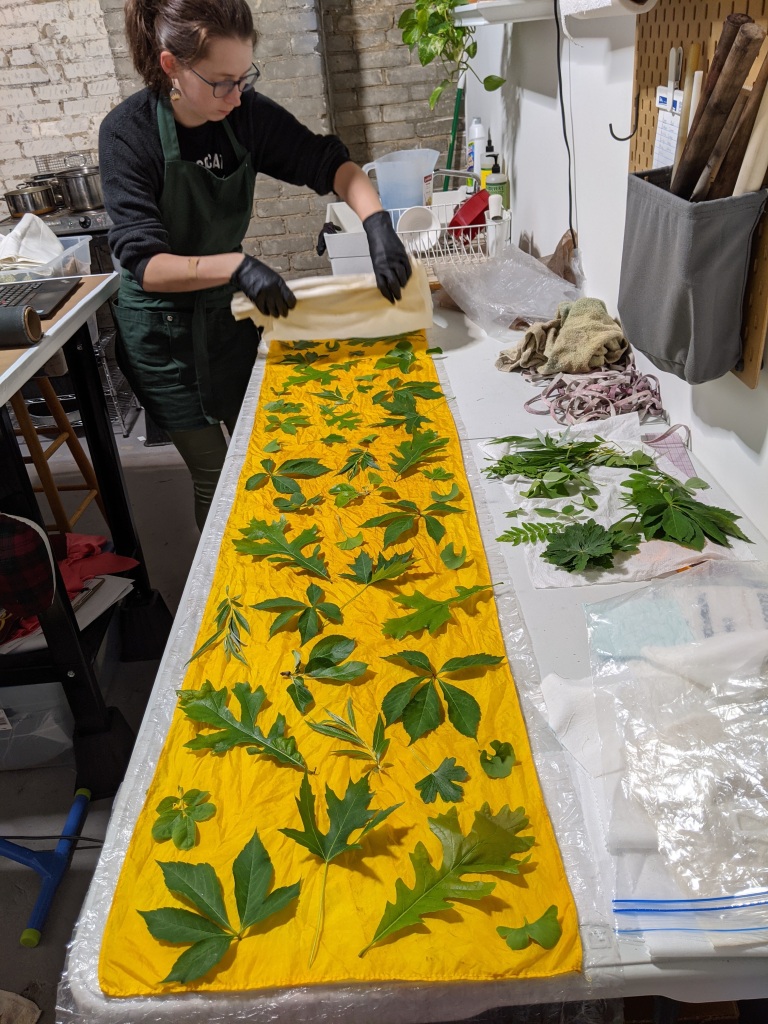 Mattie discovered botanical printing while working in the Costume Crafts Department of the Children's Theatre Company in Minneapolis. A designer brought in pictures of an effect that she wanted to create for a production. The technique wasn't familiar to anyone involved, so Mattie started researching. When the initial effort didn't yield the desired results, Mattie painted on the botanical effect for those costumes. This failure, however, had a positive outcome for Mattie, "I was hooked. Whatever this was is magical. I really just dove into that."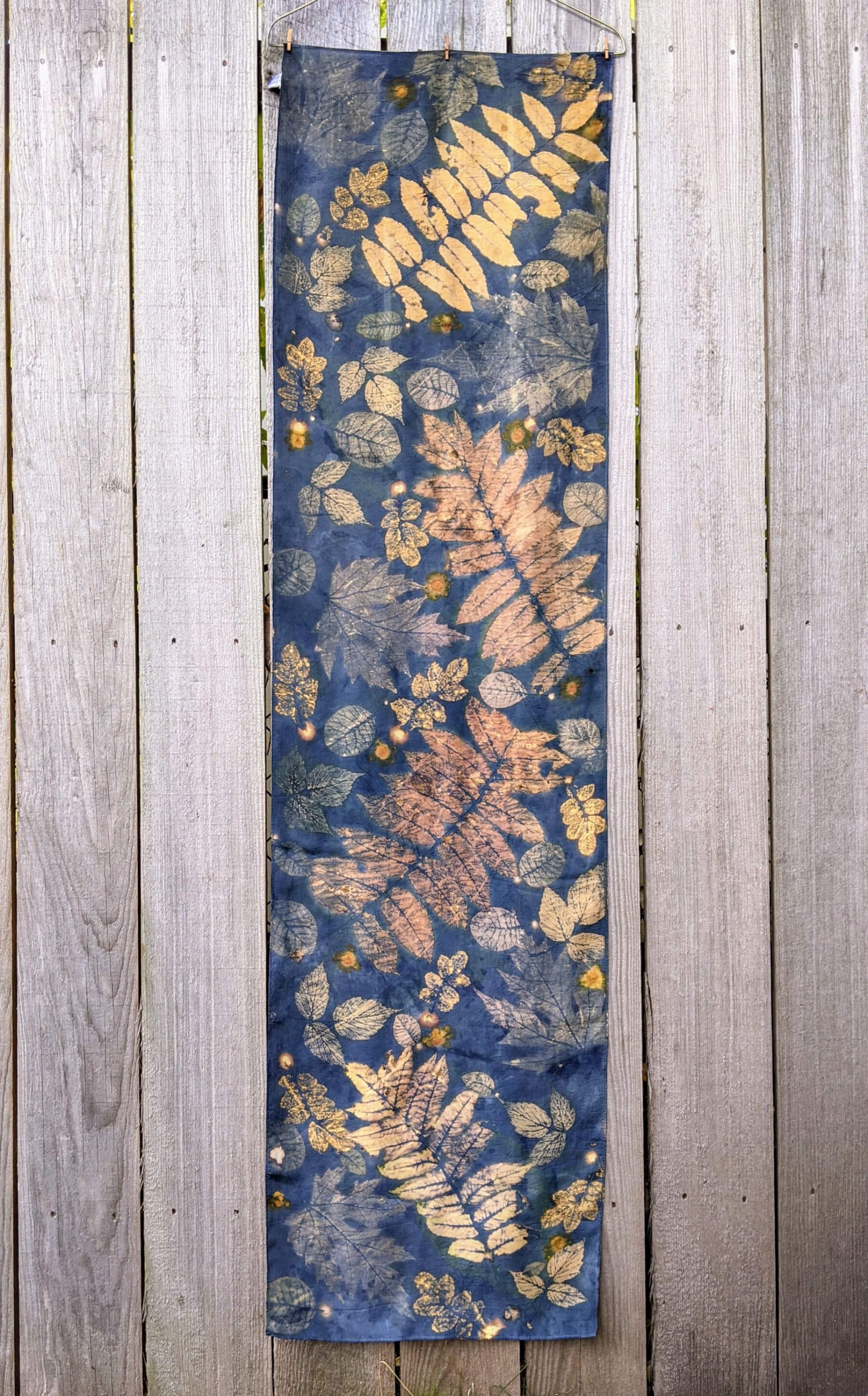 Over two years later, Mattie has developed a wide palette of tested plant material. She's building out the garden at her Minneapolis home to include her favorite plants for printing. Printing leaves allows her to admire some under-appreciated plants. "One of my favorite leaves is the Virginia Creeper, just the most mundane plant that grows on every garage in my neighborhood," Mattie reflected. "It's really acidic and it can discharge so many dyes. It has a nice star shape too." Other favorite mediums are geranium, ginkgo and maple leaves, "I've always loved maple trees. There are so many different kinds of maples so there's a variety of leaf shapes and sizes." 
Before getting into natural dyes and printing, Mattie developed a sewing pattern for Irish Dance costumes. She received a small grant from the Irish Music and Dance Association, a Twin Cities Cultural Arts Organization, in 2013. "This is something I was interested in as an Irish dancer and musician. The costumes are very elaborate and a unique shape." There weren't contemporary patterns available for sale at that time. She wanted to use the pattern both for herself and make it available for others.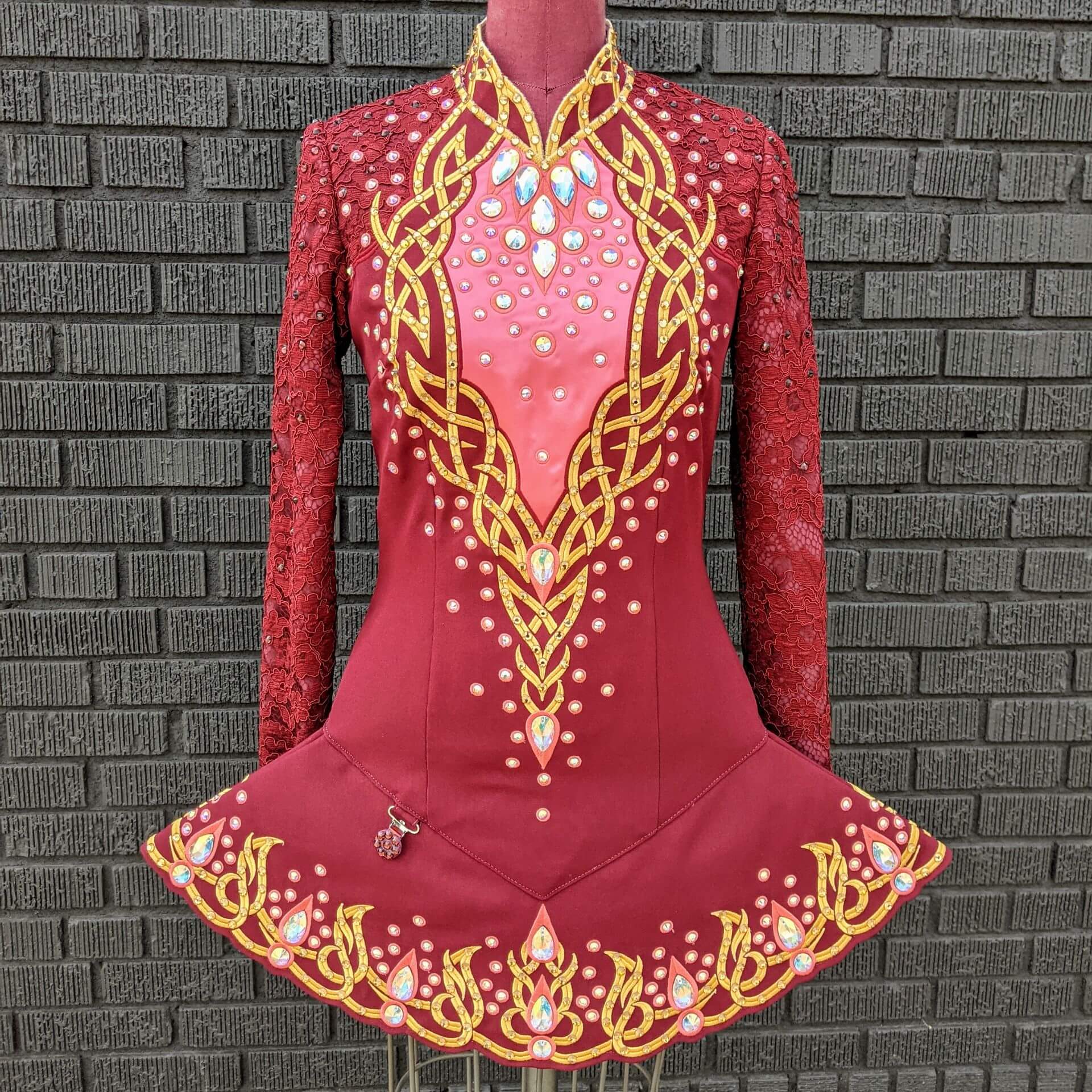 More than 1000 Irish dancers in the United States, Ireland, and beyond have purchased Mattie's patterns. Mattie also offers a Video Masterclass with six hours of content to guide dressmakers through their own creative process. 
Mattie started sewing at a young age, learning from her Mom. She wore the first dress that she made in her fourth grade school picture. After developing her own patterns as a teenager, she studied costuming in college. She enjoys being able to make something out of nothing while finding the organizational elements of the process, "I've always really liked math so the patterning aspect of sewing is fun for me. It's basically just geometry."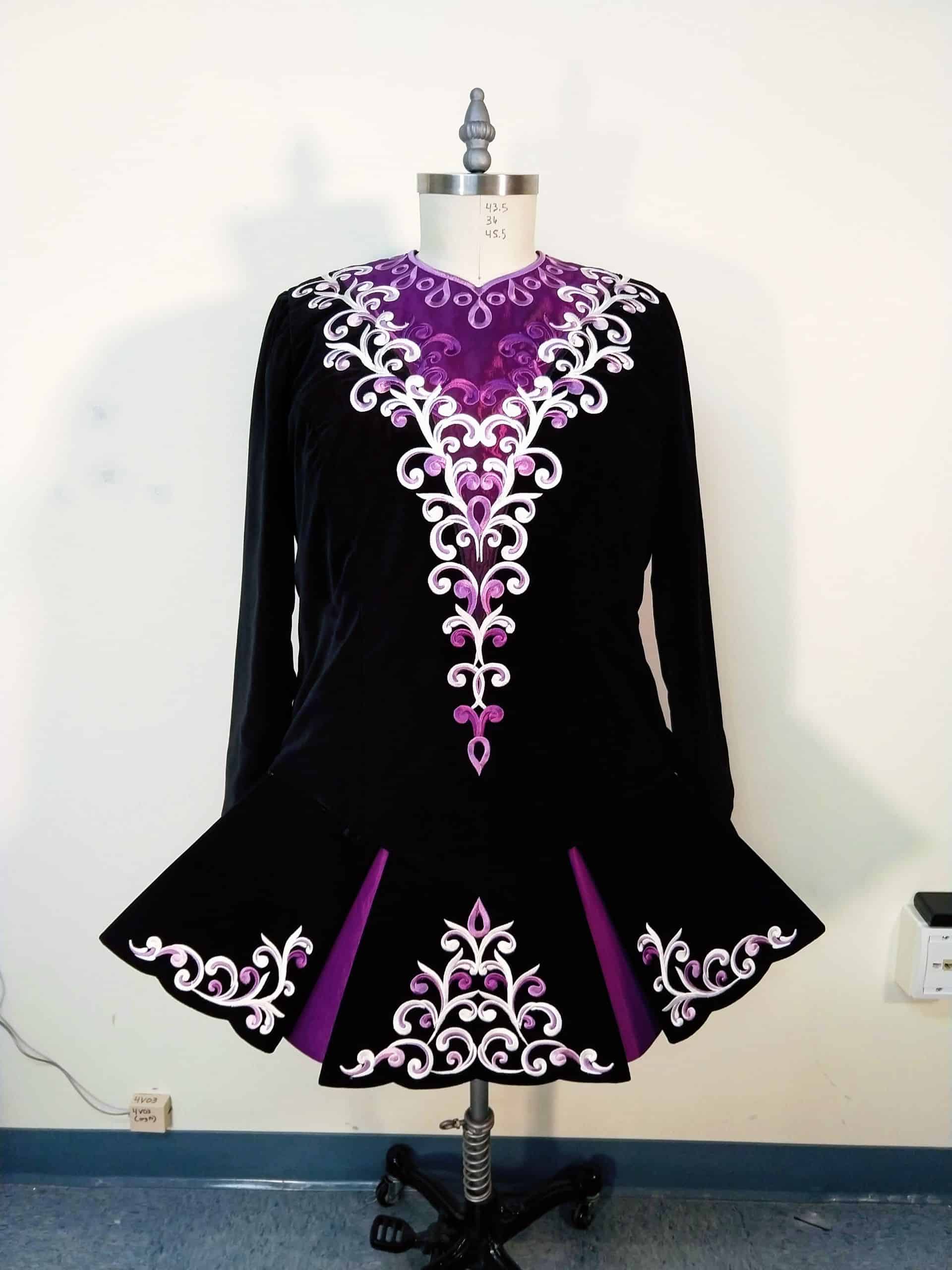 Music provides another creative outlet for Mattie. She plays the fiddle, concertina, and harp. She also teaches traditional Irish music at the Center for Irish Music in Midway Saint Paul. 
Mattie had been preparing for her first market as a botanical printer in March 2020. After her delayed start, it was a treat to participate in a variety of events last year. "It was really nice to be present in local markets. I was able to talk with other makers and with customers. I started the holiday season with 30 scarves and ended with eight. It was amazing."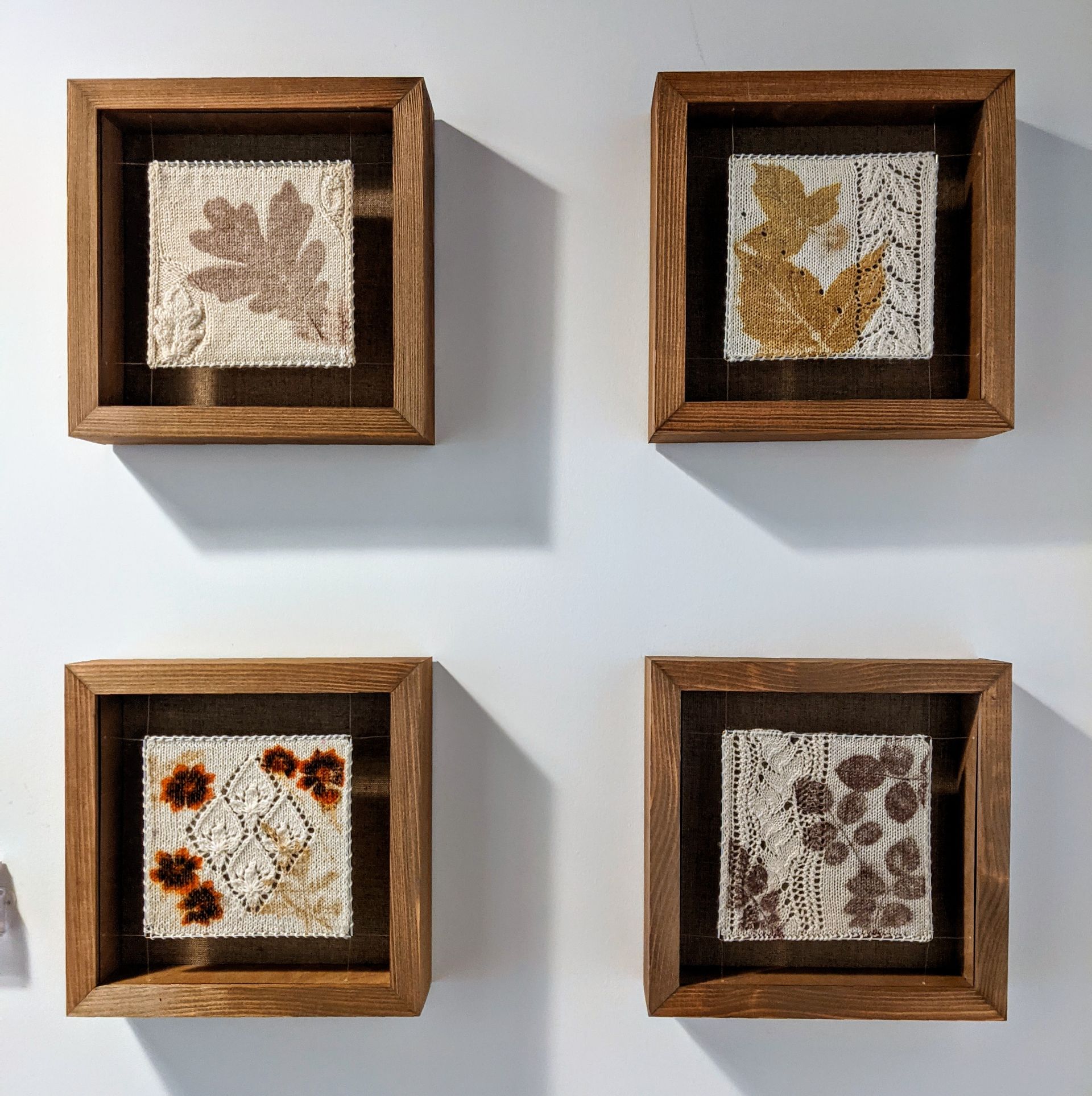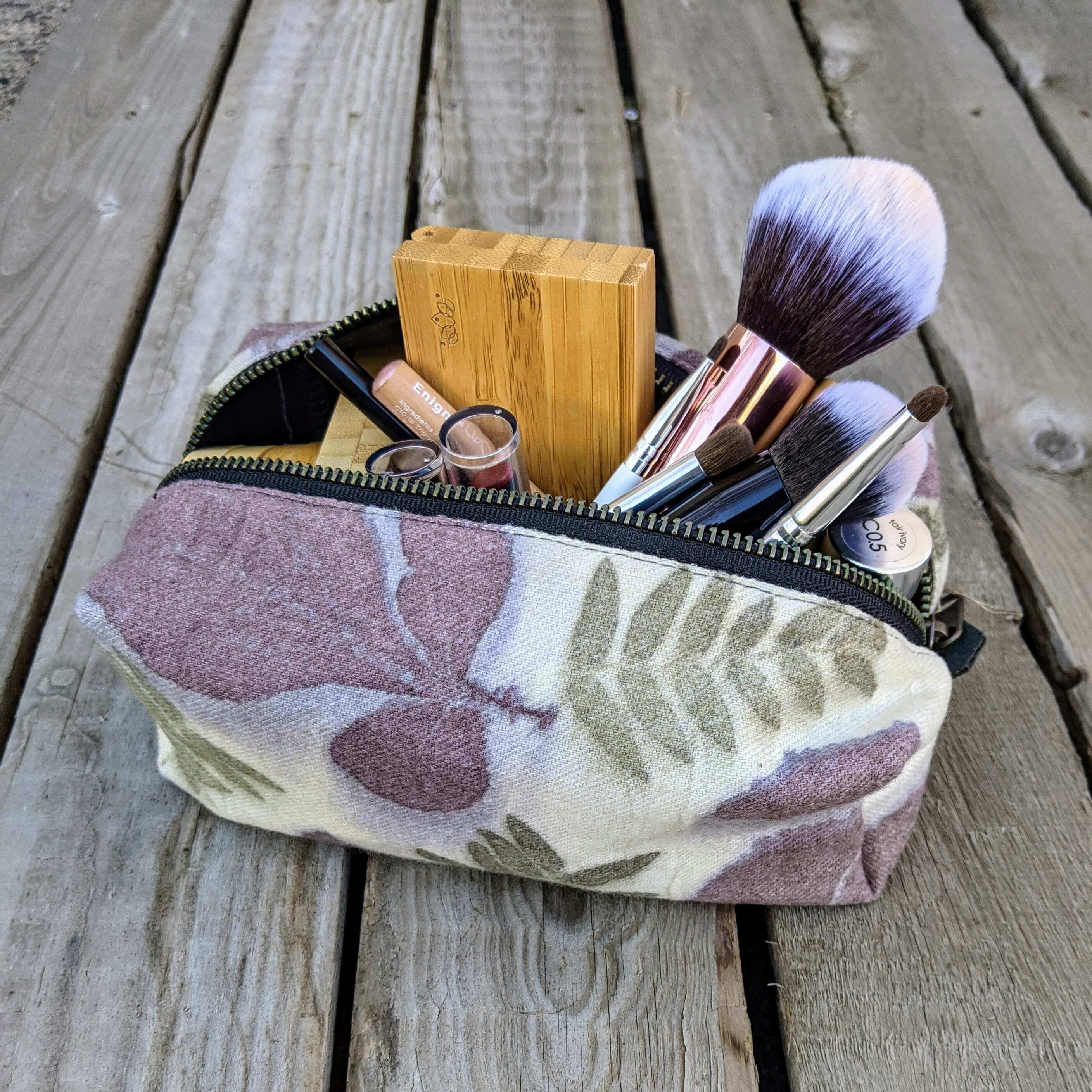 Winter brings a different rhythm for her work. She dries some leaves that she rehydrates when Minnesota's plants are bare. She also works with eucalyptus, a common plant used in botanical printing, that she purchases from a local florist. Even with the knowledge that she has gained with experience, there's always an element of surprise when she unrolls a piece, "When you open it up, it's like Christmas morning. You never know for sure what you're going to get." 
Mattie is currently preparing for Second Saturday Open Studios on February 13 at Holland Arts East Building and the NEMAA's Art-a-Whirl in May. 
When Mattie is not working on sewing patterns, botanical printing, or her music, you'll find her enjoying takeout from neighborhood favorite Northbound Smokehouse, picking up a treat from Pie & Mighty, or planning her next crop of tomatoes. Mattie is especially passionate about tomatoes, "They're my favorite fruit and/or vegetable. I like finding interesting varieties and sharing seeds with friends who also garden. I like heirloom tomatoes and different types of basil. They go well together." 
To celebrate this classic pairing, Mattie shared her favorite recipe from Food 52 for Cacio e Pepe Panzanella with Corn and Burrata. 
To browse Mattie's botanical prints, visit studio.earnestthreads.com, or follow her on Facebook and Instagram to catch new additions. 
For her sewing patterns and costumes, check out earnestthreads.com as well as her Facebook and Instagram sites. 
To discover more local makers and growers, follow Meet the Minnesota Makers by Michelle M. Sharp, a freelance journalist and founder of Meet the Minnesota Makers. Meet the Minnesota Makers is dedicated to the promotion of the many innovative makers and growers throughout the state of Minnesota. Follow Meet the Minnesota Makers Facebook and Instagram as well.
Shop well. Shop local!
Share This Story, Choose Your Platform!